After accusing ruling govt of horse-trading, Karnataka Congress tries to rope in BJP leader in Hoskote
The Congress which has been criticising the BJP for "engineering defection through its Operation Kamala" since 2008, is now planning to use the same modus operandi for political survival. Accordng to sources, Congress approached BJP leader Sharath Bachegowda to take on defector MTB Nagaraj from Hoskote in the by-election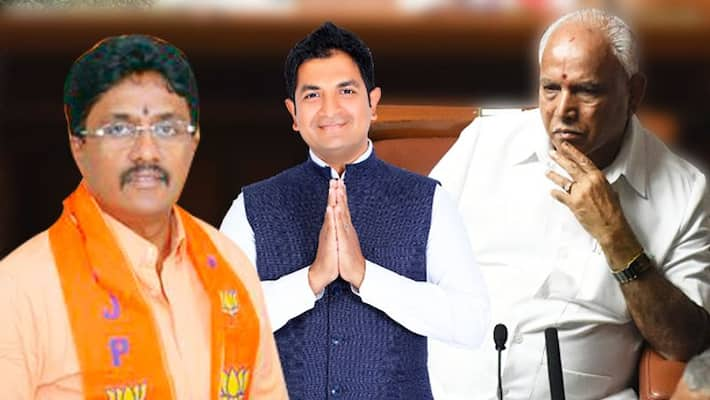 With the dates for by-election to 15 Assembly segments in Karnataka fixed, all political parties are gearing up with their strategy to deny their opponents a chance at victory. Congress which has been accusing the BJP of destroying democracy by engineering defection and poaching leaders from rival parties is now attempting the same approach for Hoskote.
It is said that Congress leaders approached Sharath Kumar Bache Gowda to contest against defector N Nagaraju, who is popularly known as MTB Nagaraj.
According to sources, Congress has come up with a political arrangement in Hoskote to try and get Sharath into the Congress fold or support him by placing a dummy candidate.
BJP leader and spokesperson S Prakash says the Congress stands exposed. "The party now stands for duplicity and opportunism. The Congress poached few leaders from the opposition in Rajasthan and other states. However, when the BJP receives members in its fold, the Congress makes a hue and cry by saying democracy is in danger."
When asked about Chikkaballapur MP Bache Gowda, whose son Sharath Bache Gowda has aired his dissent following the BJP trying to accommodate their arch-rival MTB Nagaraj, Prakash says MP BN Bache Gowda is a senior BJP leader will be able to take the situation under control and convince his son.
Congress reacts
The Congress which is hell-bent on routing MTB's political career says it will take any step to ensure the defectors are taught a lesson.
"It is a political strategy and all such things will be revealed. Let us wait for SC verdict on disqualification. I am sure these defectors will not get the ticket." said VS Ugrappa, former Lok Sabha MP and Congress spokesperson.
The numbers and caste strategy
In the 2018 Assembly election, Sharath Bache Gowda lost to Nagaraj with a narrow margin of less than 5%. Sharath polled 91227 votes (47.25%), whereas MTB Nagaraj secured 98824 votes (51.19%).
Sharath belongs to the Vokkaliga community and MTB is from the Kuruba community to which former CM Siddaramaiah belongs.
In Hoskote, Vokkaliga voters are more in number and sources say that majority of youths in the area are in support of Sharath Bache Gowda
JD(S) too will field a candidate
The JD(S) which has its presence in neighbouring Kolar district feels that it may not stand any chance still as it will field a candidate for namesake. According to sources, both the Congress and the JD(S) with a secret arrangement will defeat Nagaraj as he was one of the reasons for the collapse of HD Kumaraswamy government.
"The previous three Assembly elections are fought on the basis of money and muscle power. The voters deserve such leaders as they only elect corrupt politicians," said Srinivas Gowda, MLA from Kolar.
Last Updated Sep 26, 2019, 1:06 PM IST