Actress Ranjana Nachiyar arrested for slapping students travelling dangerously in public bus in Chennai
Actress and Tamil Nadu BJP leader Ranjana Nachiyar was arrested after an altercation with students traveling on the footboard of a state transport corporation bus in Chennai. She scolded and physically confronted the students, and the incident was captured in viral videos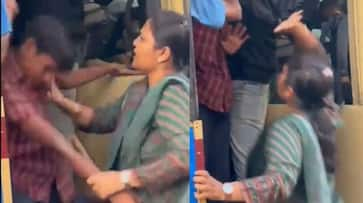 Actress and Tamil Nadu BJP leader Ranjana Nachiyar was arrested by the police on Saturday morning after she attacked students who were travelling on the footboard of a state transport corporation bus in Chennai and had an argument with the driver and conductor. Several students were clinging to the steps of a state transport corporation bus en route to the Kerugambakkam area near Chennai. Ranjana Nachiar, the actress, approached in her vehicle, overtook the bus, and forced it to stop. She proceeded to reprimand the students for their perilous mode of travel, and the situation escalated to her physically confronting them. Videos capturing these events quickly spread on social media.
Ranjana Nachiar hails from the Balakrishnan Nagar area in Kerugambakkam, near Mangadu, Chennai. A 38-year-old lawyer, she serves as the secretary of the BJP's art and culture wing.
The incident prompted Saravanan, a government bus driver, to file a police complaint against the actress. Subsequently, the Mangadu police visited Ranjana's residence and took her into custody on Saturday morning. Legal action has been initiated against her, with charges encompassing assaulting students and obstructing government employees in the performance of their duties.
During her arrest, the actress engaged in a verbal dispute with the arresting officers, questioning the existence of an arrest warrant and the reasons behind her apprehension.
Many social media users questioned the police action against the actress rather than taking action against the bus driver and conductor for allowing the children to swing dangerously at the footboard.  
Last Updated Nov 4, 2023, 12:42 PM IST