20 key points made by PM Modi in his 'Mann ki Baat'
Highlights of 70th edition of Prime Minister Narendra Modi's monthly radio programme 'Mann Ki Baat'.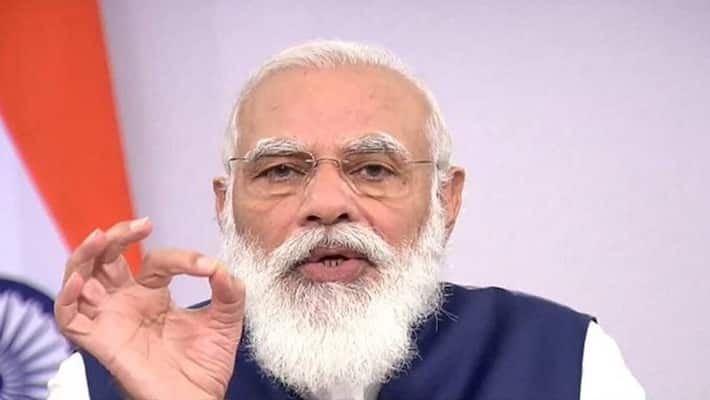 Prime Minister Narendra Modi addressed the nation through the 70th edition of his monthly radio programme 'Mann Ki Baat'. 
Here are highlights of the PM's speech
* There have also been forces which continuously try to sow the seeds of suspicion in our minds, and try to divide the country; the nation too has given a befitting reply to these ill-intentions every time
* Today, all of you are carrying on with immense patience, celebrating the festival with restraint. Hence, in our ongoing fight, our victory too is assured.
* Festival of Ramleela has been restricted to some extent; earlier during Navratri, the notes of Garba of Gujarat would reverberate all over. This time all grand events have been curtailed
* There is Eid, Sharad Poornima, Valmiki Jayanti, Dhanteras, Diwali, Bhai dooj, Puja of Chatthi Maiyya and the birth anniversary of Guru Nanak Dev ji -- during this crisis-laden period of coronavirus, we have to exercise patience, observe restraint.
* The world is taking note of our products. One major example is Khadi.
* This festive season, let us be vocal for local. This time when you go for shopping, do remember our resolve of 'vocal for local'
* India stands firmly with our brave soldiers and security forces. I would also like to assure our brave soldiers that despite them being away at the borders, the entire country is with them. I also salute the sacrifice of those families, whose sons and daughters are at the border today.
* We must care for those who care for us. During the moment of crisis, sanitation workers, domestic helps, local vegetable vendors, milkmen and security guards were with you. Now, during festivities, we must take them along.
* Do remember and more so during festivals - wear your masks, keep washing your hands with soap and maintain two yards of social distance
* Bapu had said that the jestful banter of #SardarPatel made him laugh so much that he would get cramps in the stomach. In it, there is a lesson for us too. Keep your sense of humour alive irrespective of how difficult the situations are.
* We will celebrate Sardar Vallabhbhai Patel's birth anniversary (October 31) As 'National Unity Day', you will come across few people whose personality has so many elements-depth of thoughts, moral courage, political genius, commitment to national unity
* Nowadays, our Mallakhambh is gaining popularity in many countries; Mallakhambh training centers are running at many locations across America; a large number of American youth are joining and learning Mallakhambh
 
* When we take pride in our own things, the world's curiosity around them also grows just like our spirituality, Yoga and Ayurveda have attracted the whole world.
* Many of our local products have the potential of becoming global; one such example is Khadi, that has remained a symbol of simplicity over a long period of time.
* Sardar Patel devoted his entire life for the unity of the country; today through our speech, our bearing and our actions, we have to carry forward the entire spectrum of values that unite us.
* Let us continue the efforts towards national integration.
* Pulwama in Kashmir is playing an important role in educating the entire country; the Kashmir Valley meets almost 90% demand for Pencil Slats, timber casings; in Pulwama, Oukhoo is known as the 'Pencil Village'.
* In the last century, in our country, we have had luminaries such as Dr. Babasaheb Ambedkar who forged unity among us all through the medium of the Constitution
* United we will scale new heights.
* On October 31, we will also celebrate 'Valmiki Jayanti'. I pay my obeisance to Maharishi Valmiki whose lofty ideals continue to inspire millions. He is a beacon of great hope for millions of the impoverished and Dalits.
Last Updated Oct 25, 2020, 12:05 PM IST