14-year-old egg vendor refuses to pay Rs 100 bribe; Indore civic body officials topple his cart
A 14-year-old boy who went out to earn a living by selling eggs on a pushcart was allegedly harassed, his cart overturned, and eggs smashed by civic body officials because he allegedly refused to pay a bribe of Rs 100. The video that made it to Twitter has created a stir on the internet generating ire against officials who harass street vendors for money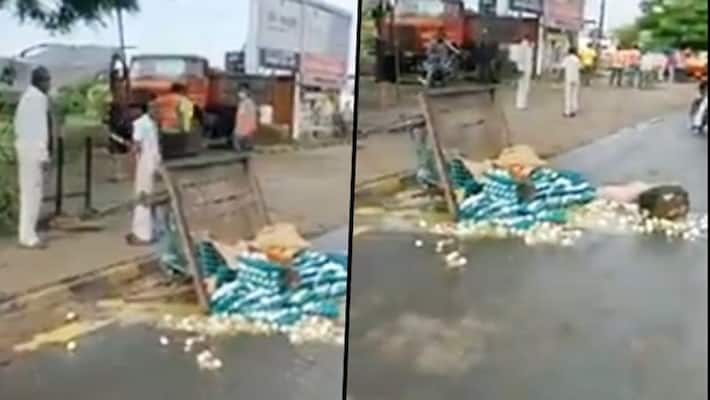 Indore: A 14-year-old boy was left in tears after his cart containing eggs was vandalised and overturned, allegedly, by civic body officials.
The boy, a street vendor, was harassed before his cart was toppled and eggs destroyed just because he refused to pay a bribe of Rs 100 to officials.
The minor boy, in the video, is seen confronting a civic official after they overturned the cart. Realising that their act was being filmed by the public, officials make a hasty retreat.
The shocked minor reportedly said, his business was under severe loss due to the COVID-19 enforced lockdown and now with the number of cases rising, he is struggling to make ends meet. The destruction of eggs and damage to the cart has pushed him into further financial distress.
However, the officials reportedly claim that the vendors were warned to not venture out and attract gatherings, failing which their vehicles will be seized. But in the case of this boy, officials did more than just issue him a warning.
The video that made it on Twitter has generated much criticism of the administration for "highhandedness" and "harassment" of vendors.
Initially, to contain the spread of virus, the administration had come up with a "left-right" rule which means businesses already set up on either side of the street would function on alternate days. But the idea was disposed of after few lawmakers rejected it saying this will only harm poor street vendors.
Also watch: We know India is battling enemies like the dreaded Covid-19 & a conniving China. But there is a bigger enemy, and that one lies within.
Find out more in #TheNewsableDecipher
Last Updated Jul 24, 2020, 5:30 PM IST