'100 Pak-sponsored terrorists waiting to enter India'
100 Pak-sponsored terrorists are waiting to enter India.
Besides civilians, defence personnel and security establishments are main targets.
PM Modi has been informed about intelligence input.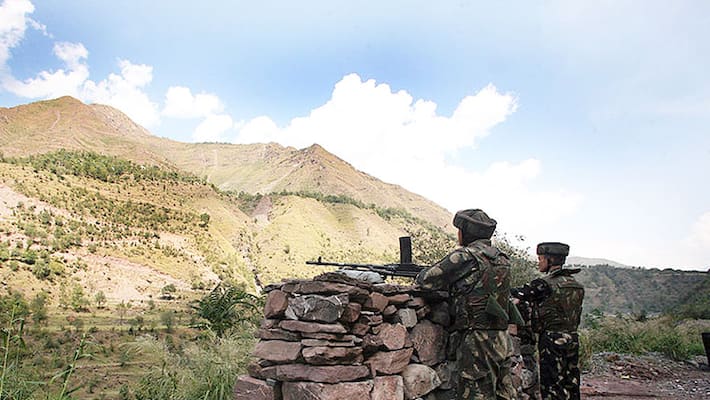 Pakistan army has mobilised about 100 terrorists across the LoC to push them into India to carry out attacks in Jammu and Kashmir even as a Pakistani police official purportedly admitting to death of 12 of their people in PoK during the surgical strikes by the Indian army. 
The Pakistan army is believed to be planning attacks by terrorists on Indian defence personnel and security establishments besides select civilian targets in the wake of September 29 surgical strikes. 
Meanwhile, an Indian TV channel on Wednesday telecast a purported conversation in which one of its journalists posed as a senior Pakistani police official to the SP of Mirpur in Pakistan-occupied-Kashmir in which the surgical strikes were discussed and deaths of 12 Pakistanis were mentioned. 
National Security Advisor Ajit Doval is believed to have conveyed the assessment of Pakistan army readying 100 terrorists to cross over into India during a meeting of the Cabinet Committee on Security headed by Prime Minister Narendra Modi, official sources said. 
Quoting intelligence agencies, the NSA is said to have told the members of the CCS--Home Minister Rajnath Singh, Defence Minister Manohar Parrikar, External Affairs Minister Sushma Swaraj besides the Prime Minister--that about a dozen terror launch pads were activated by the Pakistan Army to push the terrorists to Jammu and Kashmir to take avenge the surgical strikes.
Finance Minister Arun Jaitley, who is also a member of the CCS, is away abroad. Indian army had carried out surgical strikes on Septmebr 29 by crossing over in Kupwara sector in the Kashmir valley and Poonch in Jammu region and smashed launch pads meant for terrorists.
It was believed that nearly a dozen of terrorists were killed in Kel, Lipa and Bhimber Gali and they were given a quiet burial, according to reports. Three divisions of the army were involved in the surgical strikes and before the operation, the army teams ensured that they cut off the possibility of any reinforcements from Pakistani army, sources said.
The SP was purportedly admitting that nearly five soldiers and Lashker-e-Taiba terrorists were killed in Bhimber and Lipa.  Overall, he admitted to 12 deaths. Doval is said to have conveyed to the CCS that there is a possibility of more terrorists trying to sneak into Jammu and Kashmir before the onset of the winter.
Meanwhile, India has also shored up its defences and regular sorties of Sukhoi is taking place at Srinagar airport, which is generally a MIG base, sources said.
Last Updated Mar 31, 2018, 6:44 PM IST