'Sangh Parivar's hidden agenda…' Kerala CM Pinarayi Vijayan slams 'One Nation One Election' idea
The Modi government on September 1 formed a committee under former president Ram Nath Kovind to work on the 'One Nation One Election' Bill. Lashing out at the Centre, Kerala CM Pinarayi Vijayan said that the constitutional ideals were all under 'severe threat'. It is a hidden agenda of the RSS.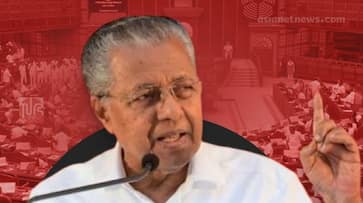 Thiruvananthapuram: Chief Minister Pinarayi Vijayan on Tuesday opposed the BJP-led Union government's "one nation, one election" proposal and claimed it was part of the Sangh Parivar's hidden plan to undermine the federal system and give the Centre control. He urged democratic society to fight it, claiming that the idea of India, the parliamentary democratic system, and the constitutional ideals were all "seriously threatened."
Also read: Modi govt sets up 'One Nation One Election' Bill panel under ex-President Ram Nath Kovind
The Chief Minister said, "This is an attempt to undermine state governments that don't support them and quickly seize control of the state government. The Rajya Sabha, one of the pillars of the Indian parliamentary system, is under attack by the Sangh Parivar, which questions its basic usefulness. The party positions in the assembly elections held at various phases continuously renew the representation in the Rajya Sabha. The Rajya Sabha's political diversity is dwindling as a result of the simultaneous holding of the Lok Sabha and assembly elections."
CM Vijayan's statements came a few days after the BJP-led Centre formed a high-level committee under the leadership of former president Ram Nath Kovind to provide suggestions regarding the viability of having simultaneous elections.
The committee will examine and recommend specific revisions to the Constitution, the Representation of the People Act, and any other laws and regulations that would need amendments in order to organise simultaneous elections.
Additionally, it will assess and make recommendations regarding whether state ratification of the proposed constitutional amendments is necessary.
The concept of 'One Nation, One Election' has been discussed repeatedly in the past but has never been put into action. The BJP has been advocating for this idea, asserting that it could lead to cost savings and increased efficiency. According to government estimates, implementing the bill could potentially save the exchequer approximately Rs 10,000 crore annually and streamline the Election Commission's electoral processes.
Last Updated Sep 5, 2023, 3:54 PM IST