Terrorising tiger finally netted; what more needs to be done to minimise man-animal conflict
Villagers in Chamarajanagar can heave a sigh of relief as the dreaded maneater tiger was finally netted and sent to a rehabilitation centre. But what more needs to be done to resolve the man-animal conflict?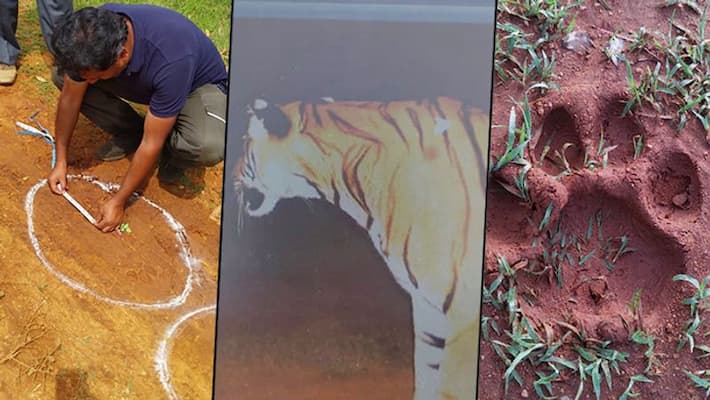 Bengaluru: The maneater tiger at Chamarajanagar was finally caught by the Karnataka forest department officials with the help of mahouts, naturalists, environmentalists and veterinarians on Sunday (October 13). 
It was a herculean task for these brave men as the maneater was nothing short of terrorising. They indeed risked their lives for the benefit of others. 
Now that the beast has been netted and sent to a rehabilitation centre, the forest department needs to put in place more preventive measures, taking into account that 20-30% of tigers stay outside the Bandipur reserves. 
Here are the suggestions: 
1. To procure thermal imagery darting guns. 
2. To replace 'prehistoric' guns with state-of-the-art equipment
3. To train its staff in drone operations, rather than wait for urbanites to respond to the SOS.
4. To have wildlife veterinarians as permanent KFD staff, placed in tiger reserves, not in Mysore/ Bangalore.
5. To have regular interaction with local people, win their confidence and respond to their issues. 
The cries for killing the tiger had hit a crescendo as it had devoured 11 cattle and killed 2 human beings. The task of capturing the wild animal was only compounded with the doubts that the forest officials may have been hunting for the wrong animal. However, the pugmarks came in a lot handy to verify the animal. 
One can't help but commend the Karnataka Forest Department, field director Balchander, forest staff, veterinarians (Dr Nagaraj, Dr Wasim, Dr Mujeeb, Dr Prayag...), mahouts/ kavadis,  drone operators (Nithin and friends from Bangalore) and unsung hero D Rajkumar, who has assisted the department in 21 capture of tigers, for successfully completing one of the toughest assignments in wildlife history.
The tiger, a healthy, robust male is confined in the Chamundeshwari  rehabilitation centre in Koorgalli, near Mysore.
All's well that ends well! 
Last Updated Oct 14, 2019, 3:37 PM IST