Senior Congress leaders demand resignation of Siddaramaiah, Dinesh Gundu Rao
Days after an ugly spat between Siddaramaiah and senior congress leaders, KH Muniyappa and BK Hariprasad are now demanding that both Siddaramaiah and Dinesh Gundu Rao step down from their existing roles following the recent Lok Sabha poll debacle.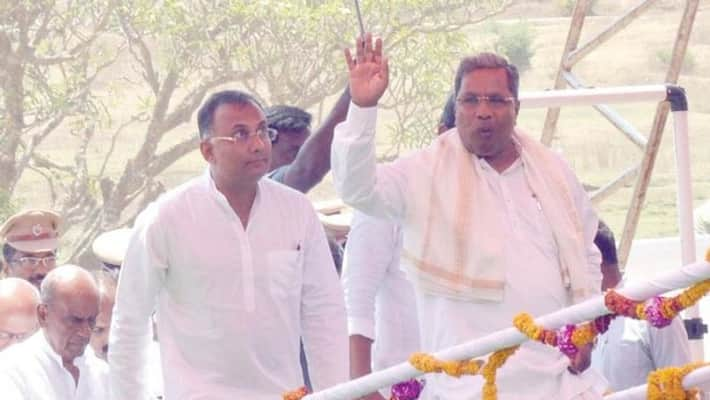 Bengaluru: It seems like Congress' brand ambassador in Karnataka and former chief minister Siddaramaiah has been experiencing heartburns post the party's Lok Sabha defeat. Firstly, his close aides Byrathi Basavaraj, ST Somashekar, Munirathna Naidu, MTB Nagaraj and Dr K Sudhakar left his side and now seniors KH Muniyappa and BK Hariprasad are blaming him for the defeat in the recent election. They have also demanded that Siddaramaiah and party president Dinesh Gundu Rao step down from their posts.
KH Muniyappa said Siddaramaiah have taken action against Roshan Baig, accusing him of indulging in anti-party activities. However, he questioned what prevented the former chief minister from taking action against those who worked against the Congress candidate in the Kolar MP seat.
It was clear that Muniyappa was pointing fingers at Srinivaspur MLA and former speaker Ramesh Kumar who joined hands with Kothur Manju and others and supported BJP candidate Muniswamy.
"The fact-finding committee is probing the Lok Sabha defeat in Karnataka. I also have raised concerns with central leaders. We have asked both Siddaramaiah and Dinesh Gundu Rao to correct themselves and there is no question of dividing the party because of old timers or new entrants in the party. Here everyone is equal," said Muniyappa.
Echoing similar sentiments, Rajya Sabha MP BK Hariprasad said, it is true that differences in opinions were aired in the meeting last week. Except KJ George, none stood by Siddaramaiah and Dinesh Gundu Rao.
Under Siddaramaiah's leadership, the party expected to win 140 seats in the 2018 Assembly elections and in Lok Sabha, for the first time in the history, the Congress lost miserably by securing only a single seat out of 28.
"No one wants to take responsibility for such a dismal performance. Siddaramaiah took up the Lingayat issue and it backfired and Dinesh, being a Brahmin, was not able to help Congress win in Rajajinagar, Malleshwaram and parts of South Bengaluru. When I was in-charge of the municipal election in Odisha and lost, I resigned, and I expect the same from these leaders." said Hariprasad.
Last Updated Sep 30, 2019, 3:31 PM IST