US Army Chief emphasises Indo-Pacific region's vital importance amidst joint exercises
US Army Chief underscores the critical importance of the Indo-Pacific region, emphasising unity and partnership during the 13th Indo-Pacific Army Chiefs Conclave (IPACC) in New Delhi.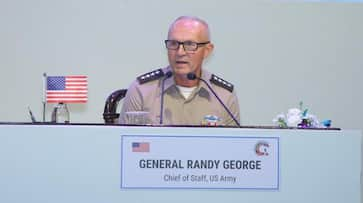 New Delhi: The Indo-Pacific Region is critically important for the United States and the reason why the US Army is conducting exercises in this region more than anywhere else in the Pacific, US Army Chief General Randy George said on Tuesday. 
Speaking at the joint briefing of the 13th Indo-Pacific Army Chiefs Conclave (IPACC) with his Indian counterpart General Manoj Pande, General George said, "This (Indo-Pacific) region is critically important to us. I think you have seen that with our national defence strategy, this is a priority.... That's why we are out here and why we exercise more than anywhere else in the Pacific..." 
"What this conference proves is that what we are after here is unity, commitment and the strength we can provide to all partners and allies. That's what we are focused on here is building that with the countries that are here," the US Army chief said.
In reply to a question, General Pande said, "Let me upfront mention that we are not looking at a military alliance so to speak... It's not... this entire exercise, initiative is not directed at against a country or a group of countries."
On being asked about what lessons have been learnt from the Ukraine war, he said, "The biggest lesson is the partnership, coming together, sharing our lessons, building friendships. The biggest part is interoperability."
He further said, "There are many lessons. I can start with command and control and I know that we are going to have to be looked at in the US Army, how can we be leaner, more moveable, and lower signature? I think we need that for command and control and we have had some of those discussions with other chiefs since I have been here."
Talking about the 13th edition of IPACC, General Pande said, "Cooperation amongst our land forces is a critical component of the collective response through bilateral and multilateral engagements between components of Armed forces of nations have been ongoing...the theme of this year's event 'together for peace, sustaining peace and stability in the Indo-pacific region' resonates deeply with the idea of a secure, stable, free open and inclusive Indo-pacific which provides opportunities for growth of all nations."
"The Indo-Pacific construct has come to occupy central space in the contemporary geostrategic campus in recent years. Its significance is a reflection of evolving dynamics in the political security economic and environmental domains of today's world," he added.
The Indian Army and the United States Army are co-hosting 13th IPACC, 47th IPAMS and 9th SELF, a three-day conference of Chiefs of Armies and delegates of 40 countries in New Delhi from 25th to 27th September 2023.
Last Updated Sep 27, 2023, 12:06 PM IST