IAF to procure 97 more Tejas Mk1A fighters: ACM VR Chaudhari ahead of Air Force Day
Despite some delays in aircraft delivery, the IAF remains committed to enhancing its readiness. The retirement of MiG-21 fighters and their replacement by LCA Tejas is also on the horizon, the IAF chief said.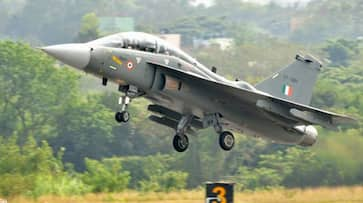 Indian Air Force is planning to procure 97 more Light Combat Aircraft Tejas Mk1A, its chief ACM VR Chaudhari said days ahead of 91st Indian Air Force Day to be conducted in Prayagraj on October 8. The force has already placed an order for 83 LCA Tejas Mk1A in 2021, which is supposed to be delivered in January 2024. However, a top source in the IAF said: "The delivery of the aircraft will be delayed for a couple of months."
In a major development, the Indian Air Force will receive two twin-seater training aircraft from state-owned Hindustan Aeronautics Limited on October 4. 
The IAF's decision to acquire additional LCA Mark 1A aircraft is part of its ongoing modernization efforts aimed at enhancing its operational capabilities and maintaining a decisive edge in the evolving regional scenario, he said.
ACM Chaudhari also stated that the existing MiG-21 fighters will be retired by 2025 and will gradually be replaced by LCA Tejas.
"In another month or so, one MiG-21 squadron will be retired, with the last one following suit after that," Air Chief Marshal Chaudhari said.
Situation along Line of Actual Control
"We are constantly monitoring the situation across borders through intelligence, surveillance, and reconnaissance (ISR). Our operational plans are dynamic and change as per developing situations. In places where we cannot counter adversaries in terms of numbers, we will counter it through better tactics. We keep revising our ISR plans as per inputs through numbers," the IAF chief said.
He also said that the force is going to stay there till complete disengagement is not taken place.
On the Indo-Pacific region, he said: "Owing to the volatile and uncertain geopolitical landscape in our region, the need to have a strong and credible military has become imperative."
"The Indo-Pacific Region is the new economic and strategic centre of gravity of the world and offers us both challenges and opportunities. Indian Air Force, with its inherent capability to see the farthest, reach the fastest, and hit the hardest, will be critical in mitigating these challenges and will remain a fulcrum in projecting India's might in the region," ACM Chaudhari added.
On modernization of the IAF
"We are looking at inducting military platforms, equipment and hardware worth Rs 2.5 to Rs 3 lakh crore in the next seven-eight years," he said.
On S-400 air defence system
He said: "We have received three units of the S-400 missile systems from Russia and hopefully we will be receiving the remaining two squadrons by next year." 
On theatre command, ACM Chaudhari said: "The work is in progress."
IAF Day flypast
About 120 aircraft will be participating in the flypast over the confluence of rivers over Sangam in Prayagraj of Uttar Pradesh. The aircraft will be included from vintage to the newly-inducted, C295. 
The C-295 will fly in Sugreev formation. The MiG-21 will be participating in the flypast for the last time anywhere in the world.
Last Updated Oct 3, 2023, 10:09 PM IST