The General who rewrote India's military doctrine
General Sundarji, who was known as the 'thinking general' and considered ahead of his time, raised the mechanized infantry regiment and was responsible for reorganizing the army's functioning and laborious equipment procurement policies.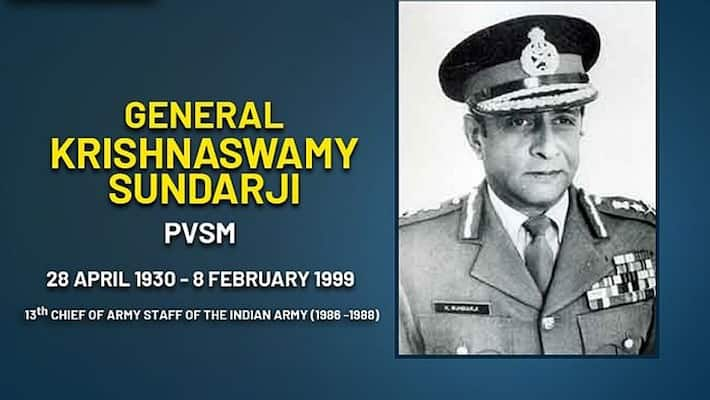 General Krishnaswamy Sundarji, PVSM, who was 13th Chief Of Army Staff of the Indian Army, passed away on this day on February 8 in 1999 at the age of 71. 
General Sundarji was the army commander who planned Operation Bluestar. As army chief, he planned Operation Brasstacks which rattled the Pakistan army.
General Sundarji was a brilliant and ambitious chief of army staff with a little over two years in office. 
Known as the 'thinking general' and considered ahead of his time General Sundarji rewrote India's military doctrine. 
He raised the mechanized infantry regiment and was responsible for reorganizing the army's functioning and laborious equipment procurement policies.
Gen Sundarji also launched Operation Brasstacks, India's largest-ever military exercise in the late 1980s, amid rising tensions with Pakistan who feared an attack under the guise of peacetime strategy. 
Gen Sundarji planned a covert offensive against Pakistan occupied Kashmir in which he was willing to take an exceptionally-high casualty rate in snowbound, inhospitable terrain at heights of over 14,000 feet to resolve the Kashmir dispute over which the nuclear-capable neighbours have fought two of their three wars since Independence in 1947.
He achieved the near-impossible task of ferrying tanks to a height of nearly 13,000 feet for the bold operation but, at the last minute, was ordered to call it off by Rajiv Gandhi.
Fighting also escalated during Gen Sundarji's tenure as army chief along the 20,000-feet-high Siachen glacier, the world's highest battleground, claimed by both India and Pakistan, where hundreds of soldiers have died since the early 1980s in cross-border firing and from exposure to temperatures that average minus 30 degrees Celsius.
General Sundarji also upped the ante with China with whom India fought a disastrous war in 1962 over a territorial dispute that remains unresolved. He oversaw two exercises, Operation Checker Board and the follow-on Operation Falcon, along the eastern front in the late 1980s. 
He strongly advocated for India to become a nuclear weapon State.
In 1984, as head of the Western Command, General Sundarji planned Operation Bluestar to flush out armed Sikh separatists hiding in the Golden Temple in Amritsar. The operation, in which over 500 people including around 80 soldiers, women and children died, ended after 72 hours of fierce fighting when tanks were finally employed.
Born in 1928, Gen Sundarji graduated from Madras Christian College and joined the British-Indian army in 1945, two years before Independence.
He was commissioned into the prestigious Mahar Regiment a year later and posted to the NWFP (now in Pakistan) to overpower Pathan tribesmen at war with the colonial administration.
Thereafter, he was posted to the disputed northern Kashmir of which Pakistan forcibly occupied a third in 1947 before it was halted by the Indian Army.
He attended the Defence Services Staff College at Wellington in 1959 and after a series of command and staff postings, he was part of the United Nations armed contingent to the Congo in the early sixties.
As chief of staff of the Katanga command combating rebels, he was mentioned in dispatches for gallantry.
On returning home in 1963, General Sundarji took command of an infantry battalion and participated in the second war with Pakistan in 1965, again over Kashmir.
He graduated from the National Defence College in Delhi in 1971 and was posted as brigadier, General Staff, of a corps involved in the 1971 operations against the Pakistani army in East Pakistan that broke away to become Bangladesh. In 1976, General Sundarji became the first infantry officer to command an armoured division.
He was instrumental in reorganising the army before being promoted to lieutenant general and becoming deputy chief of army staff.
After two years as general officer commanding-in-chief Western Command during which he planned Operation Bluestar, General Sundarji became vice-chief of army staff, then chief in 1986.
In his 1993 book, 'Blind Men Of Hindoostan -- Indo-Pak Nuclear War', he wrote a fictional account of a nuclear war between the two neighbours that came chillingly close to reality.
An engaging and charming conversationalist, General Sundarji was a keen gardener and a wild-life enthusiast who lived under 'Z', category of security, surrounded by army commandos for his involvement in Operation Bluestar and in Sri Lanka.
Follow the Flags of Honour Foundation on Twitter | Facebook | Instagram
Last Updated Feb 8, 2021, 1:19 PM IST