Nothing Phone (2) new leaked design shows rounded edge, more LED lights; Here's how it might look
The Nothing Phone (2) would include an upgraded 4,700mAh battery. Nothing has confirmed that its upcoming smartphone features a 6.7-inch display. It will be powered by Snapdragon 8+ Gen 1 SoC.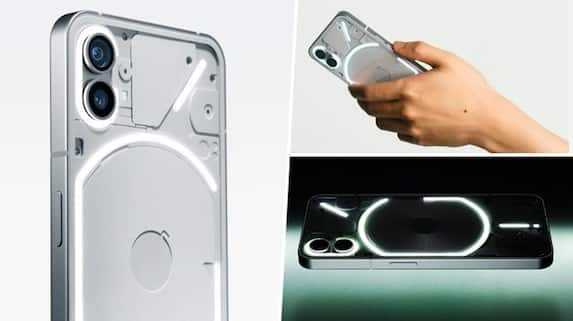 The Nothing Phone (2) will be released in India and internationally in July, with significant improvements over the Nothing Phone (1) from last year. Its creators have previously stated that the gadget would be equipped with an improved Qualcomm Snapdragon 8+ Gen 1 SoC.
Nothing has already teased a little about the design, but it appears the company will redesign the LED lights placement. Nothing presented Phone (1) with built-in lights (called Glyph module) on the back that glow according on alerts. The illumination could be tweaked, but the options were limited.
The Nothing Phone (2) might potentially improve on that experience by providing more possibilities for customising the Glyph.
Also Read | CONFIRMED! Samsung Galaxy Unpacked 2023 event in July; Here's what you can expect
According to media reports, the LED lights on Phone (2) span a larger area on the back panel. "The lighting elements on the back of the smartphone, particularly those surrounding the camera module, have been redesigned," according to the report. This change gives the gadget a new and streamlined appearance, increasing its aesthetic attractiveness." It's unknown if the Phone (2) will support RGB hues, although it seems doubtful.
Furthermore, the display will have a little bend towards the edges, giving it a 2.5D appearance. While curved screens have drawbacks in terms of usability, a modest curvature on smartphone displays adds a more premium appearance.
Also Read | 5 reasons why you should buy Samsung Galaxy F54 5G
The reports also suggest a newly designed wireless charging coil. For more power-efficient wireless charging, the Phone (2) may have numerous tiny strips of light. The Phone (1) came with a single long strip. The render additionally highlights two hues, white and black, which are identical to the original Phone (1).
Nothing has confirmed that its upcoming smartphone features a 6.7-inch display and aluminium frame. A 50-megapixel primary camera with OIS and an ultra-wide camera might be included in the back camera arrangement. Similar to previous year, there might be two storage choices - 8GB + 128GB, 8GB + 256GB, and 12GB + 256GB.
Nothing indicates that Phone (2) will contain a larger 4,700mAh battery. In India, the Phone (2) might cost more over Rs 50,000.
Also Read | OnePlus 11 5G Marble Odyssey limited edition goes on sale in India
Last Updated Jun 7, 2023, 4:39 PM IST