iPhone 15 Pro vs iPhone 14 Pro: Drop test reveals which smartphone is more durable (WATCH)
Apple is using titanium alloy to build the new iPhone 15 Pro series models which has made the iPhones lighter but does that come at cost? In this comparison of durability between two Pro iPhones, YouTuber Kohl subjected both phones to a series of drops from varying heights and angles.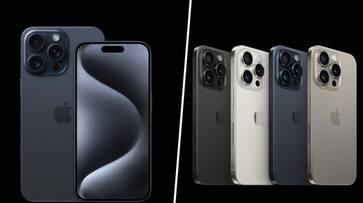 With millions willing to spend a lot of money on the most expensive iPhone 15 series model this year, the iPhone 15 Pro Max appears to be a major hit for Apple. A shipping of more than 30 million units every quarter has already been discussed by industry insiders.
The advanced camera technology and the new titanium coating, which is said to make the iPhones lighter but more durable, are two of the key factors contributing to this demand. A recent study, however, makes the opposite claim, which might serve as a caution to those using the iPhone 15 Pro or 15 Pro Max without a protection.
There are benefits and a significant drawback to Apple's choice to convert from stainless steel to titanium alloy. It is clear from the most recent drop tests of the iPhone 15 Pro models that the titanium body doesn't give the iPhones any further durability. In fact, it appears to be more flimsy than last year's iPhone 14 Pro series.
The indicators are not good if you look at how many people have commented on the construction of the iPhone 15 Pro series. According to some, using the iPhone 15 Pro or 15 Pro Max without a protective cover is not an option. This revelation raises questions for those who prefer to use their iPhones without protective cases.
Recognizing that drop tests are not necessarily scientific is important since they may be helpful. The results can be affected by a number of factors, including the surface of impact and the angle at which the phone rests. 
Last Updated Sep 25, 2023, 11:27 AM IST