Why was Kareena Kapoor asked to quit 'Kaho Na Pyaar Hai' by Rakesh Roshan? Ameesha Patel reveals secret
Did you know that Bebo, the original choice for Hrithik Roshan's debut film 'Kaho Naa Pyaar Hai', was really told to leave the project? Know the reason here.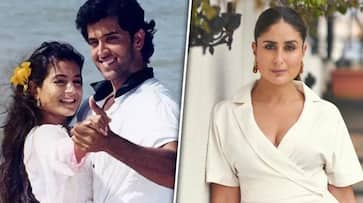 Ameesha Patel, who is currently enjoying the success of 'Gadar 2', made her Bollywood debut with Rakesh Roshan's 'Kaho Naa Pyaar Hai', a movie that is ingrained in the minds of all children born in the 1990s. Intriguingly, the actress said that Kareena Kapoor had really been the movie's initial choice. The '3 Idiots' actress was actually instructed to abandon the project by director Rakesh Roshan, according to Ameesha. However, media reports at the time said that the Bollywood diva had opted out of the film.
ALSO READ: 'Maybe photoshop': Alia Bhatt faces flak from netizens for turning 'unrecognizable' in recent magazine cover
Rakesh Roshan informed Ameesha Patel of his decision to replace Kareena Kapoor Khan in the movie due to creative disagreements, she said in an interview with Bollywood Bubble. She continued by underlining how unexpected this choice was and how the film's set was already set up when Kareena was asked to leave. The 47-year-old believes Kareena didn't voluntarily leave the project. She was asked to quit the movie, according to Mr Rakesh Roshan, because of differences in their artistic vision. It's interesting to note that Hrithik's mother, Pinky Aunty, who is Rakesh uncle's wife, expressed disbelief at the turn of events, she said.
The actress from 'Bhool Bhulaiyaa' remembers how a substitute for the leading lady had to be found in just three days after the set was ready. Everyone was quite worried, according to her, because it was Hrithik's debut and a huge sum was spent on the set. Ameesha Patel and Hrithik Roshan were introduced to Bollywood through the movie 'Kaho Naa Pyaar Hai'. The film became an overnight hit. Kareena, on the other hand, went on to star in 'Refugee', her debut film with Abhishek Bachchan. At the box office, the movie bombed.
ALSO READ: 'Jailer': Rajinikanth's actioner-drama film to release on OTT soon; Know details
Last Updated Sep 3, 2023, 1:20 PM IST