Why Alia Bhatt held up her phone during final rites of Rishi Kapoor
A picture taken during Rishi Kapoor's final rites ceremony has gone viral on social media, where his son's girlfriend, Bollywood actress Alia Bhatt can be seen in tears holding up her phone. But why did the actress use her phone?


Rishi Kapoor, the veteran actor, passed away on Thursday. The final rites ceremony was attended by his family members and other celebrities of Bollywood.
Rishi Kapoor's wife Neetu Kapoor, son Ranbir Kapoor and his girlfriend Alia Bhatt, niece Kareena Kapoor Khan and her husband Saif Ali Khan, Abhishek Bachchan and a few other celebrities of the Bollywood industry were present in the final rites ceremony of Rishi Kapoor.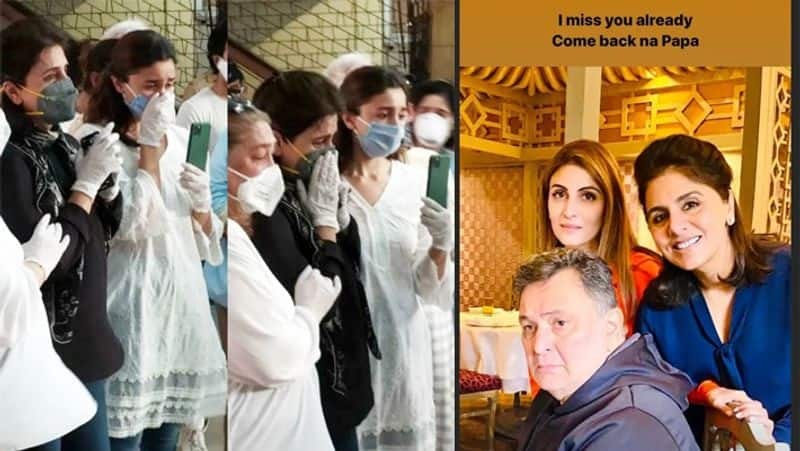 During the ceremony, Bollywood actress Alia Bhatt was spotted with a phone, weeping. According to a Times of India report, Alia was on a video call with Ranbir's sister Riddhima Kapoor, who could not make it to the funeral.
Riddhima was permitted to travel from Delhi to Mumbai but could not make it in time for the funeral.
In a similar way, Alia was seen holding a phone during Krishna Raj Kapoor's funeral in 2018. That time, she was on a video call with Ranbir, as he couldn't attend the funeral.
Actor Rishi Kapoor passed away at Sir HN Reliance Foundation Hospital in Mumbai on April 30, owing to cancer. He was 67. He was cremated at Chandanwadi crematorium.
Last Updated May 1, 2020, 10:56 AM IST