When Saif bit a villain's leg to 'save' Shashi Kapoor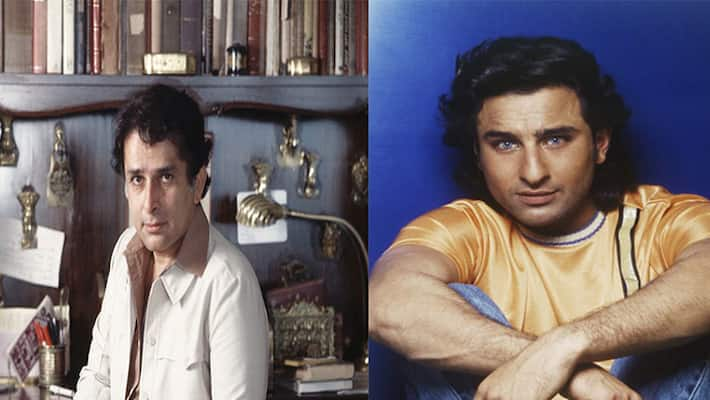 This and several other snippets related to veteran actor find mention in a book "Shashi Kapoor: The Householder, The Star", written by Aseem Chhabra and published by Rupa Publications.
The author quotes Sharmila Tagore as telling him: "Shashi and I were in Jaipur for 'Paap Aur Punya'. My son, Saif, who was just two years old, was with me, as were Shashi's wife and kids. The Kapoors would take my son around, and Shashi, I imagine, spent time playing with him - because soon, Saif grew quite attached to 'Shashi Uncle'.
 
"One day, Shashi happened to be shooting a scene where a villain put a noose around his neck, while he yanked at the rope and struggled quite desperately. Suddenly, the villain, who was in complete command of the scene, screamed! Unknown to him, Saif had crawled up and bitten him on the leg! You see, Saif thought that his Shashi Uncle was being beaten up, was in huge danger, and nobody was helping him. He had to act! Shashi Uncle was really his favourite."
Shashi was born on March 18, 1938 at Calcutta. He was given the name Balbir Raj - in keeping with the Kapoor family tradition of adopting the word 'Raj' (or 'king') in its many variations.
"But Balbir's mother, Ramsarni Kapoor, was less than happy with the name. She began calling her son Shashi - or moonbeam - since her little boy was obsessed with the moon, spending long hours watching it," the author says.
 

There is another nugget featuring Shashi and Sharmila in the book.
"Shashi's unannounced visit to the sets of 'Kashmir Ki Kali' unnerved 18-year-old Sharmila. 'We were shooting the song 'Isharon Isharon Main Dil Lenewale', and I said to myself, 'Oh my god! This is Shashi Kapoor. And I couldn't work," the author says, adding director Shakti Samanta finally asked Shashi to leave.
Chhabra says the early works of the 1960s and 1970s established Shashi as a star of Hindi cinema, and then, several key films formed a part of his legacy.
 

"There is no actual count of how many movies he acted in. Many - such as 'Sammy and Rosie Get Laid', 'Jinnah' and 'Side Streets' - never got theatre releases in India, and a few - such as 'Siddhartha' and 'Heat and Dust' - have been forgotten today. But the landmark films - 'Deewaar', 'Kabhi Kabhie', 'Junoon', 'Kalyug', and even one of his first works, 'Dharmputra' - are still part of Hindi film history, and are definitely worth revisiting, if only to find the terrific, nuanced actor lurking inside that very attractive man!" he says.
Last Updated Mar 31, 2018, 7:02 PM IST