When Ranbir Kapoor said he can give his life for Katrina Kaif
Once Ranbir Kapoor in an interview expressed his love for Katrina Kaif in public and also talked about Salman Khan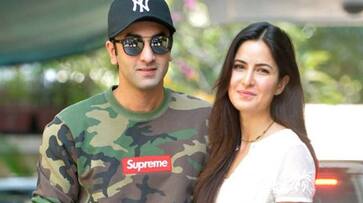 Ranbir Kapoor, who is currently dating Alia Bhatt, was once in a live-in relationship with actress Katrina Kaif. In one of his old interviews, Ranbir showed his love for Katrina for the first time in public.
In an interview with TOI, Ranbir opened up about his feelings for his then-girlfriend Katrina Kaif saying, "I am attached to a few people in my life and I can give my life for them. I truly believe that God has given us few brain cells and you have to direct them to the right things that make you happy."
In the same interview, Ranbir further said, "My family, Ayan Mukerji, Katrina, as she is a very special person in my life, Rohit Dhawan, who I grew up with, and Aisha Divetri, my school friend. And Imtiaz Ali and Anurag Basu, as they add a lot to my life."
The actor also talked about Salman Khan, who was rumoured to be dating Katrina Kaif during the start of her career. 
Ranbir said that he doesn't want to take Salman Khan's place, "My father's name in the film is Chulbul Chautala. So when I tell him, 'Chulbul naam rakhne se koi dabang nahi ban jata,' we were not trying to ridicule anyone. I don't want to take anyone's place and I am a secure and arrogant actor and will not belittle anyone to find success." 
He also talked about the superstars in Bollywood, "This term superstar is bastardised in this country. But I believe that the true-blue superstars are Amitabh Bachchan, Shah Rukh Khan, Salman Khan and Aamir Khan."
Salman and Ranbir reportedly don't have that cordial relationship and they can't see eye-to-eye. Then came Katrina Kaif into their lives; this worsened it more. 
Salman was also seen calling Ranbir a 'puppy' on national television and insulted him back and forth for stealing his girlfriend Katrina Kaif.
Last Updated May 15, 2020, 10:59 AM IST