WATCH: Katrina Kaif shares funny video of Akshay Kumar, Rohit Shetty during Sooryavanshi promotions
Katrina Kaif shared a video of Akshay Kumar and Rohit Shetty as they waited for their promotional works to begin; take a look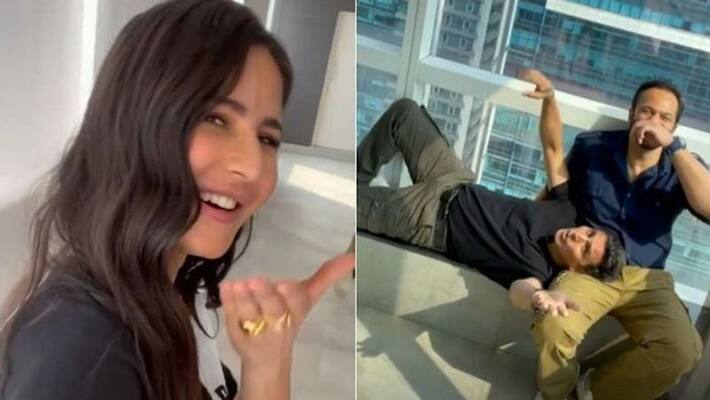 Bollywood actress Katrina Kaif and Akshay Kumar have finally come together to promote their upcoming movie, Sooryavanshi directed by Rohit Shetty. Previously, Katrina Kaif and director Rohit Shetty promoted the film until now as Akshay Kumar was busy shooting his other movies. 
And today, Katrina Kaif shared a fun video of Akshay relaxing in Rohit's lap as they wait to arrive at an event to promote their film. Katrina was also making fun of Akshay for waking up at 5 am, saying he would wake up so early and be tired by the daytime. Katrina captioned the video, "Just look at the excitement of the boys for our first day promotions together @itsrohitshetty @akshaykumar #sooryavanshiintheatres #sundayvibes #sooryavanshi NOV 5 th."
Also Read: Sajid Khan to Sidharth Malhotra to Salman Khan: 5 men Jacqueline Fernandez dated or linked
Then Katrina pans the camera to show Akshay and Rohit enjoying the morning sun through glass walls. 
As she sees Akshay's head in Rohit's lap, she says, "Arrey! If you wake up at 5 in the morning, you are going to feel tired." Then Akshay immediately gets up and asks Katrina not to record the video. But she doesn't stop and continued recording. 
Also Read: Karvachauth 2021: Will Deepika Padukone also fast for Ranveer Singh this time? Read this
So Akshay and Rohit started running away saying, "We have a reputation." But wait! They stumble and Akshay falls down in a hurry. HAHA!
The film Sooryavanshi was initially scheduled to release on March 24, 2020, but got delayed many times due to the Covid pandemic. Now it is released on November 5. It is the fourth movie in Rohit's cop series after Singham, Singham Returns and Simmba. Sooryavanshi also features Ajay Devgn and Ranveer Singh in cameos.
 
Last Updated Oct 24, 2021, 5:26 PM IST