Watch: Chris Martin sings 'Vande Mataram' with AR Rahman
Chris Martin sang his own version of 'Channa Mereya' from the film 'Ae Dil Hai Mushkil' as well.

Coldplay played at the Global Citizen Festival for over an hour on Saturday.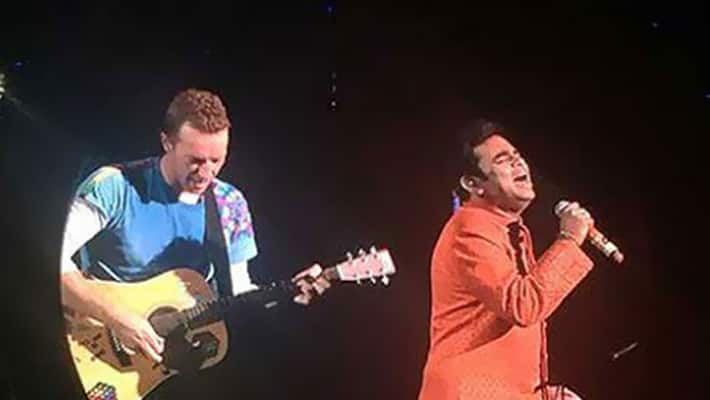 Chris Martin enthralled his Indian fans on Saturday evening at the MMRDA Grounds in Mumbai while he performed at the Global Citizen Festival. It was nothing but obvious that people went berserk as this was the first time Coldplay chose to play in India and that too for a noble cause. But the icing on the cake came at the end when Chris Martin sang ' Vande Mataram' and 'Maa Tujhe Salaam' with AR Rahman to end the show on a high note.
Earlier he stunned the crowd with his own version of 'Channa Mereya' from the film 'Ae Dil Hai Mushkil' as well.
#ColdPlay A.R. Rahman JugalBandi #VandeMataram! #MaaTujheSalaam #ChrisMartin
Ethereal Experience! Vande Mataram!... https://t.co/SXHcN55Wa0

— Taj Media House (@Taj_Media_House) November 21, 2016
The British rock band performed over an hour at the Global Citizen Festival India event. During his performance Chris Martin was seen waving an Indian flag and later on he even stated, "Hamari khush kismati hai ke hum itne khoobsurat desh mein aaye hain (We are lucky that we have come to such a beautiful country)."
Amitabh Bachchan, Shah Rukh Khan, Sachin Tendulkar, Freida Pinto, Demi Lovato, Jay Z, Alia Bhatt, Ranveer Singh, Katrina Kaif, Sonakshi Sinha, Parineeti Chopra, Monali Thakur, Arijit Singh, Arjun Rampal and Suzanne Khan were also present at the event.
Indian Prime Minister Narendra Modi also delivered a live speech from his office in New Delhi during the show.
Last Updated Mar 31, 2018, 6:36 PM IST