Video: Rashmika Mandanna shares her gym workout insight; actress crushes leg day
Bollywood actress Rashmika Mandanna is seen often posting videos of fitness and enjoys her time in the gym. Likewise, Pushpa 2 star shared a new video where she was seen working on her legs.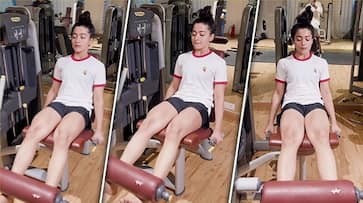 Rashmika Mandanna, sometimes known as the 'National Crush,' is currently one of the most popular actresses. Her clever and offbeat tales and postings continually fascinate her Instagram followers, making her a fan favourite! She is frequently seen sharing workout videos and likes her time at the gym. 
Recently she took to her Instagram and shared a video of herself working out in the gym. The video is captioned, " This is a video @junaid.shaikh88 has captured-where my soul is leaving my body and coming back..He's is turning me into a super human slowly and steadily.. looking at this video makes the inner beast in me very very happy I must say.."
Also Read: Who is Meera Nandan? Malayalam actress gets engaged to Sreeju (Photos)
As she's seen exercising in this video, she looks dedicated, and hard working towards a goal. This particular exercise is one of the hardest; with weights. 
Thanks to her immense following, Rashmika is now on a roll and has emerged as the strongest bet for multilingual films. Rashmika will be featured in the upcoming flicks 'Pushpa 2', 'Animal,' and 'D51' with some of the industry's greatest names, including Allu Arjun, Ranbir Kapoor, and Dhanush. Let's take a look at her future collaborations, which have piqued the interest of her fans in her next movie. 
Also Read: Sophie Turner spotted for 1st time after announcing separation with Joe Jonas
Last Updated Sep 14, 2023, 3:18 PM IST