Video: Rahul Gandhi met BTS fans in Kerala, talks about Korean music and watched J-Hope's songs
In Kerala, Rahul Gandhi recently formed a bond with a group of teenage BTS fans. Gandhi was introduced to the gang, and they made him watch some of their favourite BTS songs as well.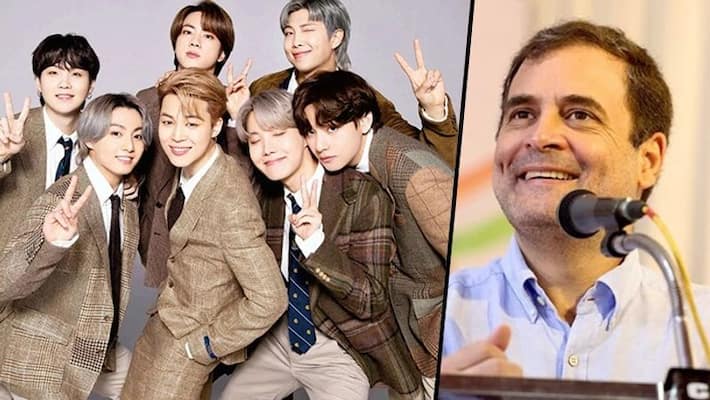 Congress leader Rahul Gandhi was recently in Kerala interacting with a bunch of BTS fans. Rahul shared a video of the same meeting on his Twitter page. Rahul recently arrived in Kerala as part of his five-month Bharat Jodo Yatra journey throughout India. Gandhi posted a video on Twitter in which he can be seen discussing BTS and the future with three young ladies.
Gandhi discussed the girls' friendship and teaching in the video. He then changed the discussion to their future and asked about what they intended to become. The females said that they desired to work as nurses in Korea.
Also Read: Sonam Kapoor, Anand Ahuja REVEAL their baby boy's name; here is what it means
Surprised by their answer, Gandhi asked, "We are BTS Army." "What do you like about Korean music?" Gandhi asked. "When you're feeling down, listening to their music is quite comforting," one of the girls explained. BTS also showed Gandhi a music video.
Gandhi shared the video, "A delightful chat with these incredible girls who are Kerala's BTS Army!"
The video has received all kinds of responses. A section of fans informed Gandhi that a new song featuring BTS member J-Hope is releasing this week, and he should try streaming it. "Rush hour by Crush ft. J-Hope is releasing on September 22nd don't forget to stream @rahulgandhi," a tweet read. 
Also Read: Janhvi Kapoor slays in floral white saree with strappy blouse; see pics
"SIR PROMOTE RUSH HOUR AND JITB," tweeted another BTS fan. A surprised fan asked, "What goes on in this country?!! anyways stream 134340."
For the uninitiated, BTS is a K-pop group that has seven members: RM, Jin, Suga, J-Hope, Jimin, V, and Jungkook. The group has received two Grammy nominations. Having been in the music industry for nearly eight years now, they have various milestones to their credits. This includes holding more than 20 Guinness World Records, serving as South Korea's presidential special envoys at the 76th UNGA, and winning several domestic and international music prizes.
 
Last Updated Sep 21, 2022, 10:16 AM IST