Urfi Javed slams Sadhguru on Instagram over LGBTQ views - READ
Urfi Javed aka Uorfi, is loved and hailed for her unconventional and bold fashion. The globally loved Indian style icon and diva is back at it again as she has slammed the globally renowned spiritual Indian personality Sadhguru on her Instagram stories.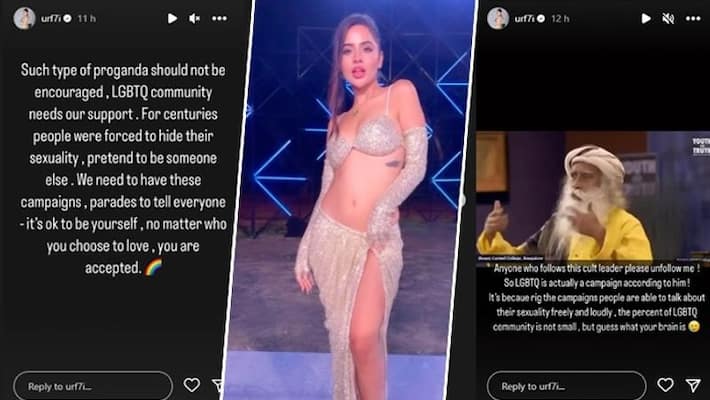 The self-made star and style icon Urfi Javed, had recently surprised netizens with her tasteful sartorial choices at a fashion week. This gesture also got many trolls thinking that Urfi is only exercising her right of freedom to wear what she wants to wear, which is commendable. 
Urfi Javed is one of the most prominent and loved TV personality who elevates the fashion game in the industry. She has worked hard to reach where she is today. She is an icon who needs no further introduction. Urfi's sartorial choices in fashion are often a mix of eccentric and quirky, but the actress stands by it. She slams the trolls and even recently bashed a public figure on social media and the BJP politician Chitra Wagh for commenting that she deserves to be in jail due to her fashion choices. Her spontaneity is what makes her the bold and quintessential fashion diva. She is very outspoken when there is injustice against women.
ALSO READ: Urfi Javed slams Islamic scholars for not condemning Taliban's ban on women education - READ
Urfi is all about supporting freedom and love regardless of genders, which includes cheering for the LGBTQ community. Recently the diva got irked by Sadhguru's speech and took to her Instagram handle. In her first Instagram story, she expressed her disappointment and ire and slammed the spiritual leader Sadhguru. She said, "Anyone who follows this cult leader, please unfollow me. So, LGBTQ is actually a campaign, according to him. It is rightly so, as the said people involved in the campaign are able to talk about their sexuality freely and loudly. The percentage of the LGBTQ community is not small, but guess what. Your brain is."
ALSO READ: 'Meri dp itni dhaasu, Chitra meri saasu': Style icon Urfi Javed takes sly dig at BJP leader
In the second one, she also explained her perspective on the LGBTQ movement. She said, "Such type of propaganda should not be encouraged. The LGBTQ community needs our support. For centuries, people were forced to hide their sexuality. Pretend to be someone else. We need to have campaigns. Parades to tell everyone that it is okay to be yourself. No matter who you choose to love. You are accepted."
Last Updated Jan 13, 2023, 10:47 AM IST