Unni Mukundan in Gandharva Jr: Makers drop special glimpse of ' The World of Gandharvas' on actor's birthday
The makers of Unni Mukundan starrer Gandharva Jr dropped a glimpse of 'The World of Gandharvas' on Friday (Sep 22). The film is helmed by Vishnu Aravind.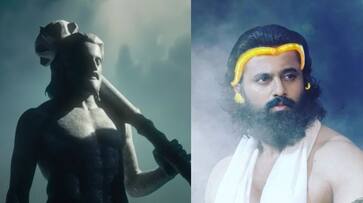 Fantasy films offer an escape from the ordinary and mundane aspects of everyday life. They transport viewers to magical worlds filled with fantastical creatures, enchanted landscapes, and epic adventures. This escapism provides a break from reality and allows people to immerse themselves in a different realm. Since the beginning of Malayalam cinema, there have been films like this one that move the viewer to a different time. As such, "Gandharva Jr" is the Malayalam film that all Malayalees are eagerly anticipating. The highly anticipated movie stars Unni Mukundan in the key role. The makers of Gandharva Jr on Friday (Sep 22) shared a glimpse of the 'World of Gandharvas' on the occasion of the actor's birthday.
The World Of Gandharvas offers a glimpse into the ethereal world of celestial warriors. The movie portrays the little-known tale of the Gandharva warriors who fought with the Gods but never received proper recognition.
The voiceover of the glimpse says,"While the stories of the battles waged by the Gods in their many forms and avatars are cherished for all time, the saga of the Gandharva warriors, who fought alongside the Gods in those victories, is veiled in profound obscurity. The Gandharvas' beauty and fighting prowess made even the Gods envy, and they caused the Gods to quake at the thought of seeing them worshipped alongside them in every realm. The Gods responded by purging the collective memory and history of all the worlds of all references to the Gandharvas' martial prowess. Instead, the Gandharvas' stunning beauty and mesmerising song were the only things for which history and the cosmos began to praise them. And time repeated it mindlessly."
'Gandharva Jr.' is helmed by Vishnu Aravind. The film is written by Praveen Prabharam and Sujin Sujathan. The music is composed by Jakes Bejoy. Christy Sebastian is the editor.
The Meppadiyan actor will also be seen in Jai Ganesh and the film will go on floors from November 10. The movie marks director Ranjith Sankar's first collaboration with Unni Mukundan. Details regarding the cast and crew of the film are not available. The details will be available once the film goes on floors.
Last Updated Sep 23, 2023, 10:21 AM IST