Tiger Nageswara Rao: Anupam Kher's first look from Ravi Teja's latest film out, movie set to release soon
Bollywood actor Anupam Kher unveiled his character's first glimpse as an intelligence Bureau/IB officer in the movie in his recent tweet. Nupur Sanon and John Abraham join Ravi Teja in the film's star-studded cast.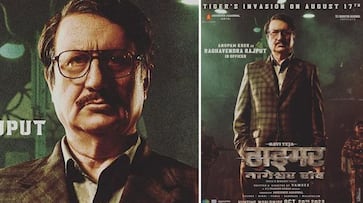 Legendary National Award-winning actor Anupam Kher shared the first glimpse of his character in the forthcoming pan-India film Tiger Nageswara Rao, starring Ravi Teja. The much-anticipated Vamshi Paidipally film will hit theatres on October 20. Nupur Sanon and John Abraham join Ravi Teja in the film's star-studded cast. Anupam will debut in a Kannada film in an intriguing turn of events. Ghost, directed by MG Srinivas, stars him and Shivarajkumar.
In a recent social media post, Anupam Kher revealed his character, Raghavendra Rajput, as an Intelligence Bureau (IB) officer. The character poster's five languages highlighted the film's pan-India appeal. Anupam Kher excitedly posted his first look on Instagram:
"ANNOUNCEMENT: Delighted to share the first look of my character #RaghavendraRajput from my upcoming five-language film #TigerNageswaraRao!!! Jai Ho! "
The character poster has excited Anupam Kher's fans. Anupam Kher has played various civil officer roles throughout his career, earning praise from cinema critics and fans. Tiger Nageswara Rao is a captivating 1970s period film. The story follows Stuartpuram, Andhra Pradesh thief Tiger Nageswara Rao, played by Ravi Teja. Tiger Nageswara Rao's story will be adapted into a film due to his clever escapes from law enforcement and prison.
As his first pan-India endeavour, Tiger Nageswara Rao is notable for Ravi Teja. This action-packed thriller is produced by Abhishek Agarwak Arts and directed by Agarwal. The box office success of Anupam Kher's latest Telugu film, Karthikeya 2, was favourably received.
 
Last Updated Aug 16, 2023, 5:08 PM IST