Jennifer Aniston, Courteney Cox and other FRIENDS cast issue joint statement on Mathew Perry death; Read
Jennifer Aniston, Courteney Cox, David Schwimmer, Mat leblanc, Lisa Kudrow has jointly issued a statement mourning the loss of their beloved friend. The FRIENDS cast were not just co-actors but a deeply knit family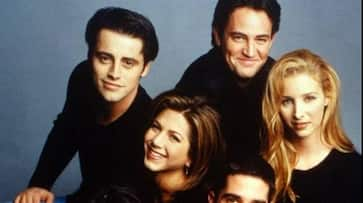 In the wake of the tragic passing of beloved actor Matthew Perry, who is best known for his iconic role as 'Chandler Muriel Bing' on the hit TV series "Friends," his former co-stars Jennifer Aniston, Courteney Cox, Lisa Kudrow, Matt LeBlanc, and David Schwimmer have come together to share an emotional tribute to their dear friend. In a joint statement, they expressed their profound grief and their deep sense of loss.
"We are all so utterly devastated by the loss of Matthew. We were more than just cast mates. We are a family," their heartfelt statement read, as reported by People. They acknowledged that there were many things they wished to say, but at this moment, they needed time to process and grieve this unfathomable loss.
"In time we will say more, as and when we are able. For now, our thoughts and our love are with Matty's family, his friends, and everyone who loved him around the world," the statement further conveyed, underscoring their support and solidarity with Perry's loved ones.
Matthew Perry was found deceased in a hot tub at his Los Angeles home, as reported by law enforcement sources to the LA Times earlier this week, according to Variety. In response to this heartbreaking news, Perry's family also issued a statement expressing their gratitude for the outpouring of love from his fans and well-wishers.
"We are heartbroken by the tragic loss of our beloved son and brother," the family said in a statement obtained by PEOPLE. "Matthew brought so much joy to the world, both as an actor and a friend. You all meant so much to him, and we appreciate the tremendous outpouring of love," their statement conveyed, highlighting the impact Matthew Perry had on those who knew him and his global fanbase.
ALSO READ: Bigg Boss 17: Munawar Faruqui becomes most followed contestant of the show, reaches 7 million followers
Matthew Perry's portrayal of Chandler on the immensely popular TV series "Friends" from 1994 to 2004 left an indelible mark on the hearts of viewers worldwide. Chandler was adored for his wit, sarcasm, and kind-hearted humor. In 2002, during the ninth season of "Friends," Perry earned a Primetime Emmy nomination for his outstanding performance. Beyond "Friends," Perry graced other television series, including "Studio 60 on the Sunset Strip," "Go On," "The Odd Couple," and "The West Wing." He garnered two additional Emmy nominations in 2003 and 2004 for his role as Joe Quincy in the Aaron Sorkin political drama.
Last Updated Oct 31, 2023, 8:22 AM IST