'The Vaccine War': US Congressman Dr Richard McCormick praises Vivek Agnihotri's latest film (WATCH)
Vivek Agnihotri took to social media to posted a video of US Congressman Dr Richard McCormick complimenting his new film, "The Vaccine War."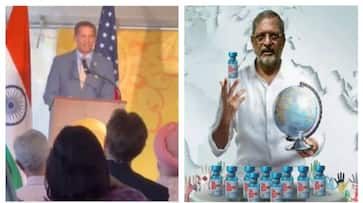 Vivek Ranjan Agnihotri, a filmmaker, shared a video on social media in which US Congressman Dr. Richard McCormick praised 'The Vaccine War.' The film's cast includes Nana Patekar, Pallavi Joshi, Raima Sen, and others.
US Congressman goes gaga over Vivek Agnihotri's 'The Vaccine War' 
Dr. Richard McCormick of the United States Congress commended the film 'The Vaccine War,' directed by Vivek Ranjan Agnihotri. The footage was uploaded on Instagram by the filmmaker. Dr. Richard Mccormick, a US Congressman from Georgia, endorses The Vaccine War at a reception for S. Jaishankar. "Through 'The Vaccine War' I have seen what women scientists in India have done. #TheVaccineWar - the story of India's great achievement is reaching policymakers (sic)," he wrote.
The Vaccine War, the latest film by Vivek Agnihotri, was released on September 28. It has earned Rs 3.25 crore at the movie office. In the midst of all, the filmmaker revealed a unique treat for his admirers.
Because the film honours the spirit of India, Indian scientists, and women, as well as their efforts in creating vaccinations to keep the country safe, the producers have begun "Buy 1 Get 1 Free" ticket sales. The goal of starting this is to ensure that the film reaches a large audience and that the nation sees the splendour of India on enormous screens.
Vivek has come forward and talked about the same and stated, "There is no one who doesn't have this vaccine inside their bodies."We very easily forget, but this movie is a great reminder of the efforts, sacrifice, struggle, and success of our scientists, because of whom we are alive today. This film is a celebration of India, a celebration of our scientists, and a celebration of the Great Indian Spirit. Please watch The Vaccine War with your family and make sure that you show this film to your children."
About 'The Vaccine War' 
In crucial parts in 'The Vaccine War,' Nana Patekar, Sapthami Gowda, Pallavi Joshi, Raima Sen, and Anupam Kher appear. The film, based on the book 'Going Viral: Making of Covaxin' by Balram Bhargava, the former director general of the Indian Council of Medical Research (ICMR), was released on September 28 in Hindi, Tamil, and Telugu.
Last Updated Oct 2, 2023, 7:40 AM IST