The Great Indian Family: Vicky Kaushal, Manushi Chillar starrer disappoints; opens with Nett 1 crore
The Great Indian Family, starring Vicky Kaushal and Manushi Chhillar, faces a challenging box office start with only Rs 1 crore on the opening day. Positive word-of-mouth and significant growth over the weekend are crucial for its success. The film explores identity and acceptance as the protagonist, Bhajan Kumar, discovers his Muslim heritage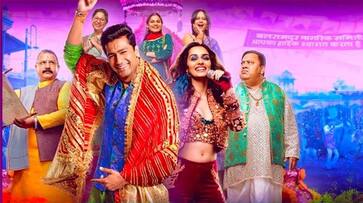 Vicky Kaushal and Manushi Chhillar lead the cast of "The Great Indian Family," a dramedy directed by Vijay Krishna Acharya. The film heavily relies on positive word-of-mouth to achieve a respectable box office total after a disappointing opening.
"The Great Indian Family" opened with a meager Rs 1 crore nett at the Indian box office on its first day. This low opening was somewhat anticipated due to lackluster promotional efforts and limited awareness about the film. However, the actual numbers have come as a surprise and suggest a clear lack of interest, at least on its opening day. With such a dismal start, the film not only needs substantial growth over the weekend but also a Monday collection that surpasses the first-day earnings by a significant margin. The film has received some positive initial feedback, but it remains to be seen whether this can help boost its performance.
Vicky Kaushal, who returned to theaters after the massive success of "Zara Hatke Zara Bachke," faced a sharp contrast in opening day collections between the two films. While "Zara Hatke Zara Bachke" managed to secure a decent opening, "The Great Indian Family" struggled in comparison. Interestingly, "Jawan" continued to be the preferred choice among Indian cinegoers for the third consecutive Friday, with collections nearly seven times higher than the newly released Vicky Kaushal starrer. Given the film's release size, a realistic target for "The Great Indian Family" would be to achieve a six-fold increase in collections over the weekend and a twelve-fold increase for the entire week, allowing room for growth.
Here's a breakdown of the day-wise India nett box office collections for "The Great Indian Family":
Day 1: Rs 1 crore
Total: Rs 1 crore nett in 1 day
About the film "The Great Indian Family": The story revolves around Ved Vyas Tripathi, also known as Bhajan Kumar (played by Vicky Kaushal), who resides in Balrampur within an orthodox Hindu family. Despite being a Pandit, he yearns for a normal life, which he finds solace in when spending time with his friends. However, his life takes an unexpected turn when he falls in love with a Sikh woman, portrayed by Manushi Chhillar. A fateful letter one night reveals that Bhajan Kumar is not a Hindu but a Muslim by birth. This revelation dramatically changes the behavior of almost everyone in his household, except for his Brahmin father who is away on a pilgrimage. Feeling estranged, Bhajan decides to leave his home and convert to Islam, embarking on a journey to discover his true identity.
ALSO READ: Jason Momoa starrer 'Common Ground' trailer OUT: Talks of regenerative movement that addresses climate crisis
Last Updated Sep 23, 2023, 12:47 PM IST