Taapsee Pannu seeks warning, Thappad team joins petition against on-screen gender-based violence
The petition started by Breakthrough has gathered over a lakh signatures as part of its on-going campaign for warnings and disclaimers against on-screen gender-based violence in Indian films. The latest to join the chorus is the Thappad team led by Taapsee Pannu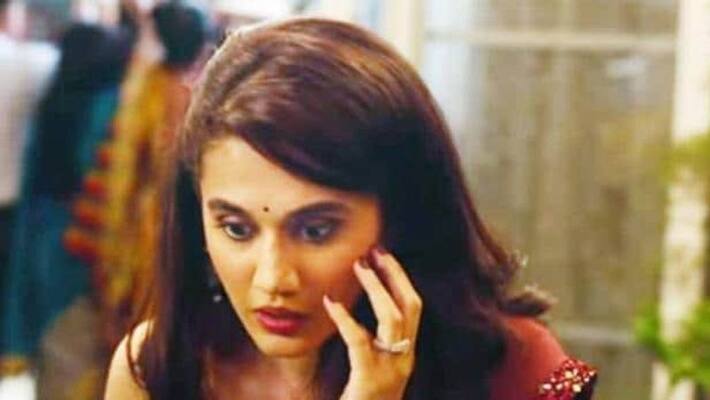 You see a disclaimer when someone is smoking onscreen. You see a disclaimer when someone is consuming alcohol onscreen. Of course, this is just the law, right? This is aimed at educating the masses. But there are certain issues that seems to be lost on the mind of authorities framing these laws.
This video by the Thappad team, led by Taapsee Pannu tries to show exactly that.
A petition started by Breakthrough India seeks to gain the support of the Ministry of Information and Broadcasting and the Central Board of Film Certification in identifying scenes of violence and calling them out with warnings and disclaimers 
By rolling out this video, the Anubhav Sinha directed Thappad staring Taapsee Pannu joins the chorus against onscreen gender-based violence, started by the organisation that is working to create a cultural shift and make discrimination and violence against girls and women unacceptable.
Thappad becomes the first film to address the issue.
The petition started in collaboration with Change.org and Ourdemocracy.in has garnered over 1.25 lakh signatures already.
The organisation understands the impact that cinema has as a medium to influence the mindset of people and seeks to bring about a behavioural change with regard to gender-based violence.
Sohini Bhattacharya, president and CEO of Breakthrough, who is no doubt glad about the response received, said. "I am happy Thappad has taken the lead. We hope many more films follow this practice." 
The petition seeks that depictions of, and, references to, violence against women and girls have disclaimers and warnings on screen – in both television and cinema, and a prominent and meaningful disclaimer at that, stating that law that punishes such acts.
"Besides introspecting on the nature of on-screen violence against women and girls, and keeping in mind the popular reach of cinema and television, the identification of such acts of violence also enables cinemagoers and television viewers to make the connection with real life and to take cognizance if this is happening to them or someone they know," Bhattacharya stated.
If you would like to sign the petition, here are the links: 
Petition - http://change.org/EkThappad
Last Updated Feb 21, 2020, 8:26 PM IST