Sukhee: Shilpa Shetty reveals how husband Raj Kundra 'motivated' her to do this film
Sukhee, the Shilpa Shetty starrer's much-awaited film, its trailer got launched today. At a media interaction recently, the 'Nikamma' actress opened up on how she did not really want to do this film. But her husband Raj Kundra motivated her persistently to do this film.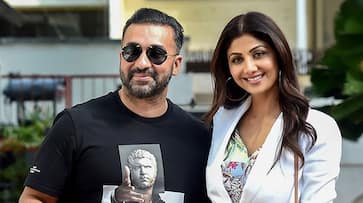 Shilpa Shetty and Raj Kundra have come a long way through all highs and lows. The real-life couple has been the biggest cheerleaders and solid supports for each other. At the trailer launch event of Sukhee, Shilpa Shetty recently revealed how her husband motivated her to do Sukhee. Shilpa Shetty will wow her fans and audiences in a one-of-a-kind entertainer titled Sukhee. At the trailer launch event, she revealed that being sceptical to star in the same as she was not in the right headspace. Shilpa opened up about her husband, Raj Kundra, who pushed and motivated her to do the film. The producer, Vikram Malhotra, also waited for quite some time for her to come on board.
ALSO READ: Rakesh Roshan celebrates 74th birthday with friends and family; see pictures inside
The actress said, "Something had happened. Because of this, I decided I would not do the film. I was not really in that state of mind. So, I told them I am not in that mind space, so they should cast someone else. I even suggested two or three names of other actors who can be casted. I would not name them. Vikram (Malhotra, producer) called me and said that whenever I was ready, they would take the film on floors. He adjusted everything and waited for eight months."
Shilpa revealed how Raj convinced her to take the opportunity and said, "Raj read the script when I was not home. I told him that it is a beautiful film. But I am not ready for it. When I returned, he told me that are you crazy? You have to do this film! He convinced me to take up the film. He forced me to do it and told me there is a Sukhee in all of us. If a man can think that way for a woman-oriented film."
Sukhee also stars Kusha Kapila in a pivotal role. The story revolves around a housewife who finally breaks free from her monotonous routine and goes to Delhi for her school reunion. The film is all set to release on September 22.
ALSO READ: Al Pacino parts ways with his 29-year-old girlfriend three months after their baby boy's birth
Last Updated Sep 7, 2023, 3:19 PM IST