Congress tries to take credit for awarding Sridevi with Padma Shri in one of its tweets conveying condolence message
This Tweet drew flak from the Twitterati and the media
Soon after the backlash, Congress handle deleted it, put out a new tweet with slight modifications
The sudden death of Sridevi has come as a shocker to the entire nation. Condolences are pouring in all platforms. But Congress's Tweet condoling the death of Sridevi is drawing criticisms from all over, as it looks like the party is trying to take credit for its achievement.
Congress Twitter handle had multiple tweets on actress Sridevi's death. One of the Tweets mentioned that the UPA Government had presented her the Padma Shri award.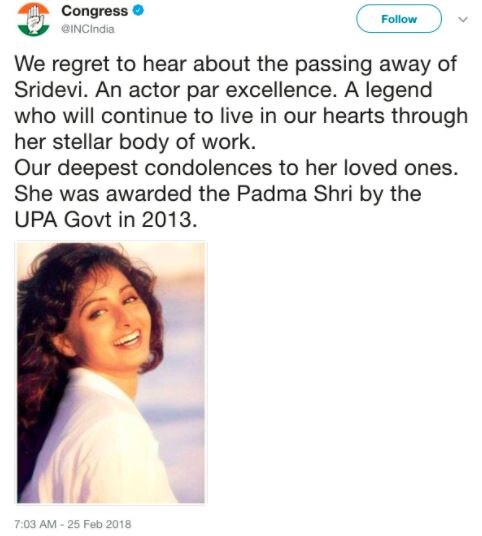 When the Twitterati started slamming the Congress for trying to take credit on such a sad occasion too, the tweet was deleted, and another modified tweet was put up. The second Tweet came with a slight change - UPA government was changed to the Govt of India.
Sridevi died of sudden cardiac arrest in Dubai, where she had gone to attend her nephew Mohit Marwaa's marriage, along with Boney Kapoor and daughter Khushi. Though Bony Kapoor had returned to Mumbai after the wedding, he wanted to surprise his wife by accompanying her home and thus flew to Dubai. But instead of surprise, it was shock. Sridevi died of cardiac arrest.
However, it is not fair to any party or any individual trying to make use of such a situation to prove their point. It is right that Congress is receiving flak for its unmindful tweets. Being a handle of the national party, one should be cautious and aware of what is being put out. 
Moreover, Sridevi was awarded Padma Shri as she truly deserved it and it was not anyone's favour on her! 
Last Updated Apr 4, 2018, 7:11 PM IST