Sooryavanshi movie review: Watch it for Akshay Kumar, Ajay Devgn and Ranveer Singh's high-octane performance
Rohit Shetty's Sooryavanshi is a well-made action-packed drama film. It has spoken about various topical subjects with a well-constructed plot. Akshay Kumar, Ranveer Singh and Ajay Devgn give you a complete Diwali entertainer. Check the complete review here.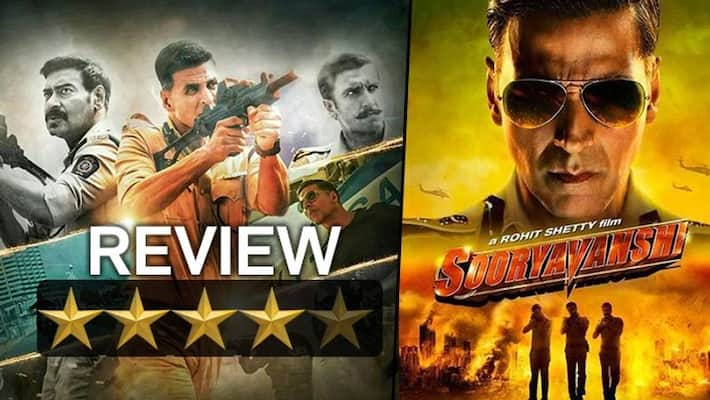 Director Rohit Shetty has expanded his cop universe over a couple of years. He has kept the audiences engaged and hardcore fans of his genre on the edge of their seat. Post the Singham series led by Ajay Devgn, we had Simbaa headlined by Ranveer Singh. Now released Sooryavanshi led by Akshay Kumar. The movie has all the elements of a masala potboiler movie; attitude, style as expected from a Rohit Shetty movie.
Just like Simmba, even this action-packed movie is narrated by Ajay Devgn, aka Bajirao Singham. He reminds us of the different terror attacks that had happened in Mumbai. The  1993 serial blast, 2008 terrorist attack on several prime locations in Mumbai like The Taj Mahal Palace, Mumbai and Chhatrapati Shivaji Terminus (CSMT). If you are a Mumbaikar, the visual treat offered by Rohit will make you emotional. Now, the biggest attack in the city of dreams is yet to occur as some of the sleeper cells from terror group Lashkar have been active, and it is found that a lot of explosives are still left from the 93 serial attacks. When  DCP Veer Sooryavanshi (Akshay) enters with a mission to protect the city from another attack, the plot of the movie changes. It shows how nation comes first for him and how he has to juggle his duties towards his wife Dr Riya, essayed by Katrina Kaif and son Aryan.
What works:
 Director Rohit Shetty knows to set things in his signature trademark style with powerful action scenes. Akshay Kumar has been shown as the star. His entry will make you blow a seeti (whistle). It is a joy to watch the Khiladi actor performing intense martial arts scenes as an officer. The backstory related to Akshay's personal life is interesting as it is shown based on real-life incidents.  We are beautifully reminded by Akshay and Katrina that they are one of the best on-screen pairs. The main concept of the movie is around, "An eye for an eye, makes the world blind".  
Although the story is a bit predictable, the action stunts monitored by Rohit Shetty and Suniel Rodrigues is rousing. Even Jaaved Jaaferi and Jackie Shroff have delivered their best roles. Audiences will also like the comedy factor added to the movie. All the dialogues will be etched in your mind, even the ones which evoke wolf whistles and claps. Ajay Devgn and Ranveer Singh's killer entry is unmissable.
"
What does not work:
Even though Katrina Kaif looks stunning in the classic Tip Tip Barsa Paani song, one cannot stop thinking of Raveena Tandon. There are a lot of cliches in the movie, and the length could have been a bit edited. The first half of the film does not have a lot of high-octane drama moments. Also read: Sooryavanshi trailer: Akshay Kumar, Ranveer Singh in battle against terrorists
Ratings:
I give this movie 3 stars. 1st for Akshay Kumar's performance. 2nd for Ajay Devgn and Ranveer Singh's action-packed scenes. 3rd for the cinematography. If you are a fan of high voltage drama, go and watch Sooryavanshi. Also read: Sooryavanshi actor Katrina Kaif makes fun of Akshay Kumar's 'pyjamas' (WATCH)
Last Updated Nov 5, 2021, 3:57 PM IST