'Gaia Mother' Sofia Hayat takes a dig at Baba Ramdev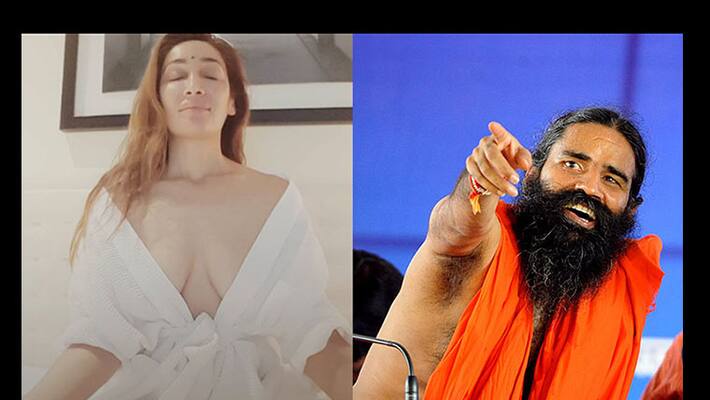 Sofia was recently in the news for shedding her sexy avatar and adopting nun-hood. She even changed her name to Gaia Mother Sofia. 
However, the actress continued to share her bold pictures and videos on her Instagram page. Following that, she got much criticism even her friend Rakhi Sawant pointed a finger at her new bold image saying "What happened to u dear Sofia u r not mother anymore".
Later, Sofia replied to her writing – "yes still mother.. cosmic Mother is everything.. i have to be everything". 
Gaia Mother Sofia recently took to Instagram to post a hot picture wearing a bathrobe and flaunting her cleavage. With the post, she attacked her haters, stating that she wears more clothes that the Yoga Guru Ramdev.
Here what she wrote, "Take yourself so high that you become the light of divinity. Anyone who criticises skin show.. I am still wearing more clothes than Baba Ram Dev. Our Gods have always been beautiful. Anyone who judges and criticizes, needs to clean their minds and look at this picture, and indeed every woman as a sacred being of creation. A Goddess. When time began a woman on her period was considered sacred. Her blood was sacred. It was the sign of fertility. Now women hide the fact they are menstruating, and are considered unclean. Ask yourself why? The negative, masculine, left brained archon energy did this. The archons are now gone. Remove the programming of associating negativity with women. It is time. The sacred feminine energy is back and is here to stay in all her power, glory and fertility of the earth and LOVE. Namaste Salaam Gaia Mother Sofia #selfie #yoga #goddess #love #yoga"
She also added, "Meditation and yoga bring awareness of the vast nothingness inside of you, which is everything in existence connected as one unity, one love, one breath and divinity...all in unity with the Mother, with Earth..with you. Namaste Salaam Gaia Mother Sofia"
Now, she has taken a U-turn and started posting bold images and videos on Instagram handles. Sofia, who had once stated that she wouldn't wear any makeup and had opted celibacy, was spotted in a glammed-up avatar during the recent promotions of her upcoming Bollywood movie Six-X with Andria D'Souza and Ashmit Patel. 
Check out the trailer here.
Last Updated Mar 31, 2018, 6:55 PM IST