Sobhita Dhulipala meets Rekha at award ceremony. shares reaction
Sobhita Dhulipala's 'perfect frame' moment with eternal Rekha at an award ceremony is here!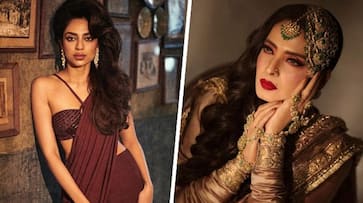 At a recent star-studded award ceremony, the glitz and glamour of the evening weren't just confined to the awards themselves. The real highlight of the night was a heartwarming encounter between two generations of Bollywood beauty and talent – Sobhita Dhulipala and the timeless Rekha. For Sobhita, the night took an unforgettable turn when she found herself in the presence of her ultimate role model, the legendary Rekha. Sobhita, who has long admired Rekha as her on-screen idol, was struck with awe when she saw the veteran actress at the event. It was a moment that felt like a dream come true for Sobhita. Meeting and greeting her favourite actress, Rekha, was an experience that left her in sheer disbelief. The two talented actresses crossed paths when Rekha gracefully stood near Sobhita's seat while making her exit, and this serendipitous encounter led to a heartwarming exchange of pleasantries.
Also Read: Sonakshi Sinha buys swanky sea-facing apartment worth Rs 11 crore in Mumbai
To Sobhita's amazement, Rekha not only acknowledged her presence but also showered her with praise for her exceptional work. Rekha informed Sobhita that she had heard about her remarkable performances in movies and web series, including her standout role in 'The Night Manager'. Sobhita couldn't help but be mesmerized by Rekha's timeless charm and the heartfelt words of appreciation she received. In return, Sobhita expressed her deep love and admiration for the yesteryear star. It was a beautiful moment where the admiration flowed both ways, bridging the gap between two generations of remarkable actresses.
Sobhita was extremely grateful about this moment and went on to repost it on her Instagram stories. She said, "When you receive love from your hero, a part of you changes forever. The child in you becomes a song. This was one such moment :)
With the one and only❤️"  It's worth noting that Rekha, during her era, was celebrated as the "IT woman." She graced the covers of popular fashion and film magazines, setting trends and defining glamour in Bollywood. She was the epitome of elegance and allure.
Fast forward to today, Sobhita Dhulipala stands as one of the most sought-after and glamorous actresses of her generation. She captivates audiences with her stunning avatars and delivers memorable performances on screen, with her role as Kaveri in 'The Night Manager' being a shining example. Rekha and Sobhita's impromptu rendezvous was a heartwarming exchange that left fans and industry insiders alike in admiration of these two remarkable actresses, each contributing their unique charm to the world of cinema.
Also Read: 'Jawan' box office collection Day 7: Shah Rukh Khan's film gets closer to the Rs 400-crore mark
Last Updated Sep 14, 2023, 4:01 PM IST