Shah Rukh Khan perfect example of 'India'; Ganesh idol, Quran live at same place
Netizens and fans of Shah Rukh Khan notice Ganesh idol and holy book of Quran at his home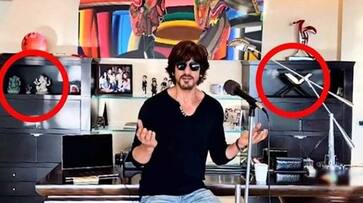 Bollywood superstars Shah Rukh Khan, Aamir Khan, Hrithik Roshan, Madhuri Dixit Nene among others turned signers for a digital concert to raise funds for the frontliners working round-the-clock to contain the coronavirus pandemic in the country.
Shah Rukh closed the concert with a song composed by rapper Badshah, penned by lyricist Saini. Titled Sab Sahi Ho Jayega, the song is about the perils of being locked up inside homes and the hope that sooner or later the world will be coronavirus-free.
"Everybody who knows me knows that I cannot sing to save my life. So thank you for taking a chance on me, everybody. But that's what life is about, it's about good chances, hope, kindness and compassion in whatever ways we can," Shah Rukh said.
Shah Rukh's son, AbRam, also made an appearance in the song and the duo put up some adorable dance moves together. Towards the end, when the Fan actor said he can go for one more, AbRam said, "Papa, it's enough."
Now the interesting point. Wondering eyes of netizens and fans noticed a Ganesh idol as well as the Quran placed in the shelf of his home and applauded him saying that the image aptly described I for India.
Impressed by this, they were all praise and love for King Khan. Sharing a picture, pointing out the Ganpati idol and the Quran, a fan wrote, "Ganesh bhi milega, Quran bhi milega... Ye SRK ka Mannat hai sahab, yaha aapko har dharm milega. The image that truly described #IForIndia," while another fan wrote, "Ganpati ki Murti Left mai. Right Mai Quran Shah Rukh Khan Hai Bharat Ki shaan."
One of the fans wrote, "Ganpati ki Murti Left mai. Right Mai Quran 
Shah Rukh Khan Hai Bharat Ki shaan."
Last Updated May 4, 2020, 3:16 PM IST