Samantha Ruth Prabhu talks about working in full-fledged action film, Citadel and more
"But I Love Action......And It's quite a Big Coming Up with Citadel:, says Samantha Ruth Prabhu while talking about her upcoming projects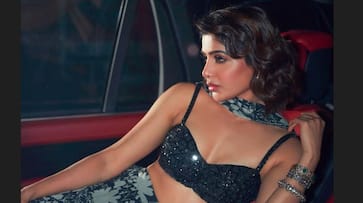 Samantha Ruth Prabhu is India's most attractive and brilliant actress. With her particular charm, looks, and remarkable performance, the Pan India actress has continued to captivate admirers and audiences. After proving her mettle on a broad scale, the actress has become a household name, and the public constantly looks forward to seeing more of her in films.
While the actress, who impressed everyone with her craft in her latest release 'Kushi' opposite Vijay Deverakonda, recently held an interaction session on her social media, where audiences asked about her upcoming projects and also asked the actress whether they could see her in an action-packed avatar or not.
Samantha Ruth Prabhu took to social media to communicate with fans and audiences, and netizens inquired about her future flick. Fans and moviegoers eager to see the actress in an action picture rushed to social media to express their enthusiasm, asking the actress, "Can we get a little sneak peek at your next project?"
Responding to the question, Samantha answered, ""
The beautiful actress responded to the fans and said, "My next project is actually not one; I do not have a plan. Let's see. I know I want to be most selective about the things that I work on and the things that push me out of my comfort zone, and unlike when I get any roles, I am okay."
While another fan asked, "Maam, can we expect a full-fledged action film from you?""
Samantha said about her upcoming projects, "One thing I am really excited about is action. I don't know why; I've never been a goofy person, but I love action, and I love it, and I think that it's quite a big deal coming up with Citadel. The action in it was really hard and fun, but I love it, and I love the challenges. I can't wait for you guys to see it and enjoy it, but yes, I think the action is for me".
Meanwhile, on the work front, Samantha Ruth Prabhu, who was last seen in Kushi, is gearing up for the global release of her much-awaited show 'Citadel', co-starring Varun Dhawan.
Last Updated Sep 20, 2023, 2:53 PM IST