Puneeth Rajkumar opens up on love story with wife Ashwini; recalls days on movie sets with brothers
If you have a scene where you have to kill someone, you can't practice that, you just have to act, said Puneeth Rajkumar. Here is also a glimpse into his love story with wife Ashwini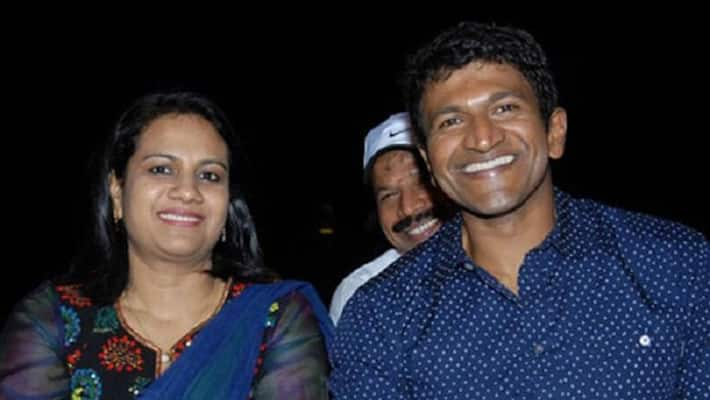 Bengaluru: Power Star Puneeth Rajkumar's latest movie Natasarvabhouma is making good business at the box office. But before becoming a star (as a hero), Puneeth would accompany his brothers to the movie sets. Did you know what did he did there?
 
Puneeth loved playing and that is what he did on the sets when he went as a visitor with his brothers Shiva Rajkumar and Raghavendra Rajkumar.
Puneeth had to face this question in many interviews and he is asked if he was observing his father, brothers act and get any tips from them. But Puneeth as known as a simple, humble person answers with a smile saying, no, he would just play in the set.
He believes in the theory "Don't try to live in your character, enact it," as said by the American filmmaker, actor Robert De Niro.
"If you have a scene where you need to kill someone, you can't practice that. You just have to act," he said in an interview conducted by actress Priyamani for the online show 'Famously Filmfare'.
"Ours is a cool family, we are very casual. So I used to go to the set and enjoy playing when I was young," said Puneeth.
In fact, when he wanted to get into movies, he did not work on his acting skills or dancing skills but he was more worried about his weight and worked tirelessly on getting fit.
It can be noted that Puneeth was also a child actor and had acted in many award-winning films including Bhakta Prahlada and Bettada Hoovu.
Puneeth met his wife Ashwini through common friends in 1996. After being 'friends' for eight months, he knew she was the one and proposed to her. She readily agreed as she was also in love with him.
While Puneeth's family was more than happy with the alliance, Ashwini's family couldn't believe it and were reluctant to accept the proposal. After six months, they too were convinced and Puneeth got married to Ashwini. The couple is married for 20 years now.
Last Updated Mar 3, 2019, 3:01 PM IST