Pulimada Review: Is Joju George, Aishwarya Rajesh's Malayalam thriller worth watching? Read this
Pulimada Twitter Review: Pulimada (Tiger's Den) features a stellar cast including Joju George and Aishwarya Rajesh, along with Chemban Vinod Jose, Lijomol Jose, Jaffar Idukki, Johny Antony, and Balachandra Menon. This Malayalam thriller movie was released in theatres on October 26.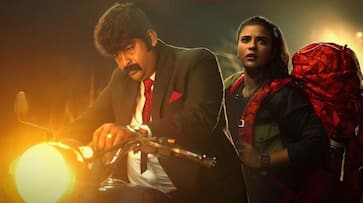 Malayalam film Pulimada is directed, written, and edited by A. K. Sajan. The film stars Joju George and Aishwarya Rajesh, Chemban Vinod Jose, Lijomol Jose, Jaffar Idukki, Johny Antony, and Balachandra Menon. In January 2022, principal photography began in Wayanad, with Ishaan Dev writing the songs and Anil Johnson providing the background soundtrack. Venu is in charge of the cinematography. 
Cast of Pulimada 
Joju George plays Vincent Scaria in "Pulimada," Aishwarya Rajesh plays Emily, Chemban Vinod Jose plays SI Ashokan, Lijomol Jose plays CPO Sini, Jaffar Idukki plays Appaachan, Johny Antony plays Kuttappappi, and Balachandra Menon plays Dr. Joshy Kurien. Sona Nair, Jeo Baby, Krishna Praba, Pauly Valsan, Jolly Chirayath, Abu Salim, Abin Bino, and Fara Shibla are among the skilled cast members. 
Pulimada Team 
Pulimada marks the return of cinematographer Venu to Malayalam film after a nine-year absence. The film was co-produced by Rajesh Damodaran and Sijo Vadakkan under the brands of Appu Pathu Pappu Production House, Ink Lab Cinemas, and Land Cinemas. The primary filming for the film began on January 5, 2022, with a ceremonial pooja at the Mount Avenue Hotel in Ambalavayal. During the event, Stephy Zaviour lighted the Nilavilakku, producer Dixon Poduthas turned on the lights, and Suraj P. S. gave the first clap. The entire film was shot over the course of 60 days. 
Pulimada Music:
The film's soundtrack is composed by Ishaan Dev, and the background score is composed by Anil Johnson. Rafeeq Ahamed, Dr. Thaara Jeyashankar, and Fr. Michael Panachikal wrote the lyrics for the songs. Notably, the film's soundtrack orchestra is from Budapest. On August 22, 2023, the first song, named 'Arikil Onnu Vannal,' was released.
The highly anticipated debut of "Pulimada" offers a thrilling cinematic experience for all filmgoers. Stay tuned for informative Twitter reviews as viewers discuss this thriller film.
Last Updated Oct 26, 2023, 12:54 PM IST