Pakistani actress Nausheen Shah wants to 'slap' Kangana Ranaut for speaking 'sh*t' about Pakistan
Lollywood industry star Nausheen Shah said that Kangana Ranaut should focus on her country and the controversies surrounding her life. Nausheen Shah also revealed how she wants to slap Kangana Ranaut for spewing venom about her Pakistan.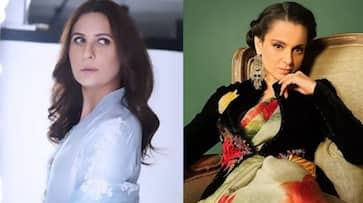 Pakistani actress Nausheen Shah recently appeared on a chat show. In the chat show, she revealed how she would like to slap Kangana Ranaut for saying a lot of crap about Pakistan and its army without any knowledge. Nausheen called Kangana an extremist and said that instead of talking about someone else country, the actor should focus on her own country, career and controversies. Nausheen got asked on the popular chat show of host Momin Saqib, Had Kar Di, if she wanted to meet any Bollywood actors. She said she would like to meet Kangana Ranaut and give her two slaps. Particular word slap got muted in the version of the show uploaded on YouTube. But the hand gesture of Nausheen gave it away.
ALSO READ: Prithviraj Sukumaran pens special note on daughter Ally's 9th birthday; drops family picture
Nausheen said, "The way she (Kangana) says sh*t about my country, the way she says a lot of crap about the Pakistan army, I salute her audacity. She has no knowledge but talks about the country, that too on someone else's country. Focus on your own country, focus on your acting, your direction. Focus on your controversies and ex-boyfriends and whatnot."
The actress continued, "How do you know people get mistreated in Pakistan? How do you know about the Pakistan Army? How do you know about our agencies? We ourselves do not know. The agencies are in our country. The Army is in our country. They do not share these things with us. They are secrets, are they not?."
Although Nausheen applauded the acting prowess of Kangana, she maintained that the actress lacked respect for other people and their countries. Kangana Ranaut is known for often expressing her candid take on things related to Bollywood or politics. Although netizens admire her humour, her opinions do not settle well with others.
Meanwhile, on the work front, Kangana will next be seen in the Tamil film Chandramukhi 2. Directed by P Vasu, the film will also feature actors Raghava Lawrence, Vadivelu and Radikaa Sarathkumar in lead roles. She also has her directorial project Emergency in the pipeline, wherein she will also essay the role of Indira Gandhi.
ALSO READ: Zeenat Aman shares sweet memory of Norway issuing stamps in her honour - READ
Last Updated Sep 8, 2023, 4:35 PM IST