The movie is all about Rajput's ' aan baan aur shaan ' (Hello Karni Sena, are you listening?)
It looks like Padmaavat is just like a love letter written by Sanjay Leela Bhansali to Rajputana valour!
Director: Sanjay Leela Bhansali
Cast: Ranveer Singh, Deepika Padukone, Shahid Kapoor, Aditi Rao Hydari and Jim Sarbh
Movie rating: 2 stars
If you are not a Ranveer Singh fan, after watching this you will bow down to his performance that will remain lingering in your mind after you leave the cinema hall. On the other hand, Deepika Padukone, as usual, looks pretty in those glitzy costumes and heavy jewellery.

The movie is all about Rajput's 'aan baan aur shaan' (Hello Karni Sena, are you listening?) It looks like Padmaavat is just like a love letter written by Sanjay Leela Bhansali to Rajputana valour! 
Story: Maharawal Ratan Singh (Shahid Kapoor) travels to the land of Singhal (Sri Lanka) to get some valuable pearls for his first wife Nagmati (Anupriya Goenka), where he meets Padmavati (Deepika Padukone) and instantly falls for her beauty. Soon they get married and return to Chittor. Later on, one night when Raja and his Rani have the intimate moment, Raghav Chetan, the guru of Maharawal, tries to invade their privacy, but is caught and exiled. 
Next, Raghav takes his revenge from Maharawal by telling Alauddin Khilji (Ranveer Singh) that Rani Padmavati is the most beautiful woman with brains and that he should always have her. Khilji begins his conquest but fails as she, along with the women of Chittor, commit 'Jauhar'.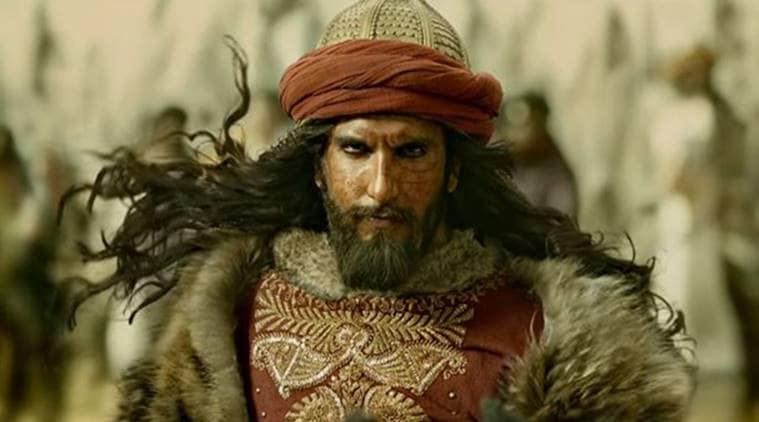 Ranveer Singh: Alauddin Khilji was ferocious, selfish, lecherous, tactical, crazy, power-hungry, obsessive and sarcastic. He is also a poet and a romantic lover, one who brings alive all shades of Khilji with finesse and enthusiasm. Shahid Kapoor's character is definitely overshadowed by Ranveer's. Another surprising highlight of the Padmaavat was 'Neerja' actor Jim Sarbh's character as a eunuch, playing the slave to Khilji. He essayed the so-called role of Malik Kafur, which was as negative as Khilji. But Jim Sarbh did utmost justice to his character. He got us clapping for him right through the first minute of his performance. There's also Aditi Rao Hydari as Mehrunisa, wife of Khilji, who makes the best of the little screen time she has.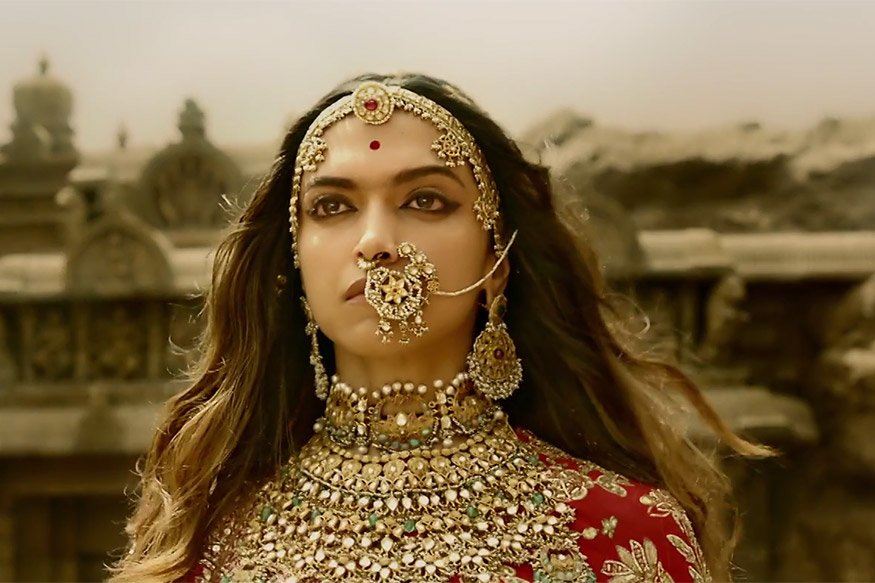 Deepika Padukone: Queen Padmavati looks gorgeous and her character grows on you as the film progresses. She will give you goosebumps in the climax with her open hair and scarlet outfit holding her husband Maharawal's hand-printed cloth walking towards the blazing flames to perform Jauhar. Deepika has good and powerful dialogues in the movie, and she delivers them with elan. Ghoomar was the only song in the movie, which is bearable and tolerable.
Shahid Kapoor: Maharawal Ratan Singh's character played by Shahid Kapoor, managed to evoke Rajputana pride in our hearts. Kohl in his eyes, courage in his heart and depth in his voice, you have never seen Shahid in such a captivating role ever. It is one of his best performances, after Udta Punjab and Haider.
Verdict: The story is a combination of Sufi poet Malik Muhammad Jayasi's poem Padmaavat with a dash of filmy folklore. While we were all waiting with bated breath for Padmaavat's release, after all that drama and hype enveloping it, the movie ultimately failed to impress me. However, Sanjay Leela Bhansali's film is a visual delight and thoroughly entertaining at different levels, courtesy the epic performance by Ranveer Singh. At the end of it all, the story just falls flat.