O Baby Trailer OUT: Witness Dileesh Pothan in intense and diverse avatar
In his new outing, Dileesh Pothan adorns a unique and pivotal form in the O Baby Trailer. The movie is brought to life by writer-filmmaker Ranjan Pramod - By Mahalekshmi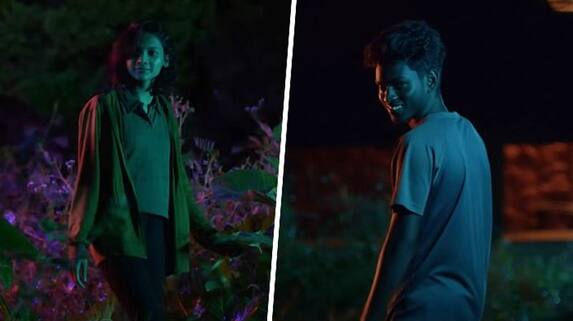 The trailer of noted filmmaker Ranjan Pramod-directorial upcoming film, O Baby, has got released. It captures the tone of the movie. Scheduled to release on June 9th, the film stars Dileesh Pothan in the lead, alongside Raghunath Paleri, Athulya, Haniya Nafisa, Saji Soman, and Shinu Syamalan.
The movie is produced and bankrolled in collaboration with Pothan, Abhishek Sasidharan and Pramod Tevarpally. Giving a glimpse into the intriguing world in which the film is set, the trailer divulges a compelling atmosphere and some grim events.
ALSO READ: Poonam Pandey SEXY Photos: Actress stuns fans by flaunting cleavage in plunging-neckline sea green outfit
The trailer commences with scenic views and lush greenery, with a beautiful cover of the timeless Asha Bhosle-Kishore Kumar duet Yeh Raaten Yeh Mausam. With three young adults strolling through this atmosphere, two of them exchange affectionate gazes. This is where the tone goes for a toss.
With word getting out about this romantic fling, a series of unfortunate events happen as the elders oppose their love. Conflicts occur among residents wherein things escalate. The trailer gives us a few shots of the action sequences that follow. 'No matter how good a tree is, if it leans over the roof, you have no choice but to cut it,' says an old man in the trailer. This dialogue perfectly captured the chilling essence of the film that the trailer showcases.
Prarthana Indrajith, the daughter of actors Indrajith Sukumaran and Poornima Indrajith, has lent her singing talents to the song Mullaanu in the film. The makers released a lyrical video of the track a week ago.
With cinematography by Arun Chalil, Samjith Mohamed heading Editing, original background score by Lijin Bambino and composition by Varun Krishna and Pranav Das, the film promises to give a different experience. Ranjan Pramod has penned some famous works such as Meesa Madhavan (2002), Naran (2005) and Achuvinte Amma (2005) in his career, giving confidence that his work on this film will be a treat.
ALSO READ: Has Taylor Swift broken up with 1975 frontman Matty Healy after 'casual' romance?
Last Updated Jun 7, 2023, 4:29 PM IST