Nayanthara, Vignesh Shivan celebrate twins birthday in Malaysia; shares family photo
Vignesh Shivan and Nayanthara celebrated their twins' first birthday in Kuala Lumpur, sharing a glimpse on Instagram. The couple, who welcomed Uyir and Ulag through surrogacy, revealed their faces and expressed their deep love in a heartfelt message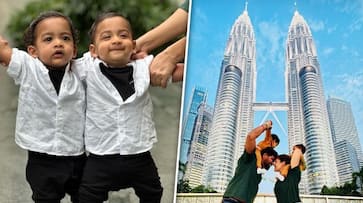 Vignesh Shivan recently offered a glimpse into the joyous birthday celebrations of his twins, Uyir and Ulag, who turned one year old. The renowned filmmaker and his wife, Nayanthara, marked this special occasion in Kuala Lumpur, Malaysia, surrounded by their family.
Taking to Instagram, Vignesh Shivan shared a heartwarming family photo captured during their children's birthday bash. In the picture, both Nayanthara and Vignesh Shivan can be seen holding their precious boys in their arms, while the entire family stands together for a group photograph. To match the festive atmosphere, all four family members were dressed in matching white outfits.
The birthday setup was nothing short of enchanting, with a forest and animal-themed cake for both Uyir and Ulag, adorned with an array of blue and white balloons that beautifully decorated the room. The table was adorned with several delectable cupcakes and desserts, enhancing the celebratory ambiance.
In his Instagram post, the director of "Naanum Rowdy Dhaan" expressed his gratitude, saying, "That was a dreamy birthday @gtholidays.in; you are amazing at finding the perfect spot for every special occasion. This palace @stregiskl was the ideal spot for our special day! Thank you. Thank you for all the lovely arrangements on top of it! You are our one-stop shop for any of our travel plans."
On this significant milestone of their twins' first birthday, Nayanthara and Vignesh Shivan introduced the world to Uyir and Ulag. Alongside a heartfelt birthday note, they conveyed their boundless love for their little ones. Part of their touching message read, "Appa and Amma love U2 beyond what words could explain! Beyond anything and everything in this life!"
For those unfamiliar with their journey, Nayanthara and Vignesh Shivan tied the knot on June 9, 2022, and just four months later, they welcomed their twin boys through surrogacy. The couple bestowed their children with meaningful names: Uyir Rudronil N Shivan and Ulag Dhaivag N Shivan, with 'N' symbolizing Nayanthara's presence in their names. While they initially kept their twins away from the public eye to safeguard their privacy, Lady Superstar Nayanthara unveiled their adorable faces when she made her Instagram debut, delighting fans with a glimpse into their beautiful family.
ALSO READ: Raj Kundra to star in biopic on jail experience following controversial arrest, read the details
Last Updated Sep 28, 2023, 4:31 PM IST