Mission Raniganj song 'Keemti' OUT: Parineeti Chopra, Akshay Kumar revive classic romance with latest track
Get ready for old-school romance with 'Keemti' from 'Mission Raniganj.' Akshay Kumar and Parineeti Chopra's chemistry shines in this soulful track, promising a heartwarming cinematic experience.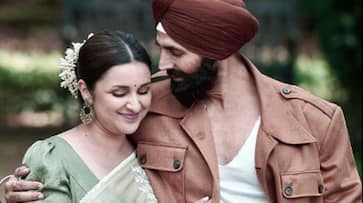 The big screen witnesses the revival of old-school romance, as Akshay Kumar and Parineeti Chopra's chemistry takes center stage in the soulful track 'Keemti' from the highly anticipated rescue thriller 'Mission Raniganj'. Following the success of the energetic bhangra anthem, 'Jalsa 2.0,' and the emotional track 'Jeeyenge,' Pooja Entertainment and Jjust Music are gearing up to enchant audiences with this romantic melody.
'Keemti' perfectly encapsulates the essence of love, portraying the special connection between the characters portrayed by Akshay Kumar (Sardar Jaswant Singh Gill) and Parineeti Chopra (Nirdosh Kaur). The song comes to life with Vishal Mishra's mesmerizing vocals, music that tugs at the heartstrings, and lyrics by Kaushal Kishore, all elegantly choreographed by Shabina Khan. Fans have eagerly awaited this romantic gem, and their anticipation is finally rewarded.
'Mission Raniganj: The Great Bharat Rescue' not only promises a captivating storyline but also marks the debut of Jackky Bhagnani's Jjust Music in the world of Original Soundtracks (OSTs). The soundtrack of 'Mission Raniganj' by Jjust Music is poised to immerse listeners in a soulful musical journey.
As the film's release date approaches, the excitement among fans and movie enthusiasts is reaching its zenith. Directed by Tinu Suresh Desai and produced by Vashu Bhagnani, Jackky Bhagnani, Deepshikha Deshmukh, and Ajay Kapoor, 'Mission Raniganj' is set to narrate the gripping real-life tale of a heroic rescue mission in the coal mines of Raniganj in November 1989.'Mission Raniganj' is all set to hit theaters on October 6, 2023. Audiences can look forward to an unforgettable cinematic experience that pays tribute to an unsung hero's race against time.
Last Updated Oct 3, 2023, 2:59 PM IST