Mark Antony trailer: Witness Vishal, SJ Suryah's quirky time-travel adventure in film
Headlined by Vishal and SJ Suryah, Mark Antony is written and directed by Adhik Ravichandran. The film is ready and set to release on September 15. A lot of action, drama, comedy, fun and time-travel adventure goes on in Mark Antony's trailer, making all audiences and fans intrigued to see the film in theatres.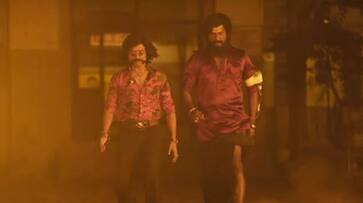 There is a lot going on in the trailer of Mark Antony– action, comedy, time travel and gangsters with discipline. Headlined by Vishal and SJ Suryah, Mark Antony is written and directed by Adhik Ravichandran. Tamil actor Vishal-led next film, Mark Anthony, is getting ready for release on September 15th. The makers dropped the theatrical trailer just a while ago. It promises a quirky gangster drama with bold characters and an adventurous time-travel concept. Macho star Rana Daggubati unveiled the Telugu version of the trailer. The much-awaited trailer showcases the peculiar behaviour of two gangsters played by Vishal and SJ Suryah. In retro clothes with vintage feeling retro-esque charm, the dynamic duo evoke laughs with their nuanced performances and bang-on dialogues.
ALSO READ: Rana Daggubati has to say THIS on 'Jai Bhim-National Awards' controversy
The trailer takes off with fleeting glimpses of all supporting characters. Then, makers take fans and audiences into the madness-filled realm and world of Mark Anthony with some intense action episodes followed by an introduction of the quirky character played by Vishal. He appears as a gangster cum playboy. When SJ Suryah joins him, the madness peaks to a new level as they go on a killing spree. Telugu comedian Sunil gets another meaty character in this film.
Billed as a period science-fiction action comedy, Mark Antony features Vishal in the double role of father and son. Mark Antony has an ensemble star cast with  Suneel, Selvaraghavan, Ritu and several others in intriguing roles. The film is produced and backed by S Vinod Kumar.
The film is gearing up to release worldwide on September 15, 2023. Mark Antony is a mandatory film for both the star and the director. Filmmaker Adhik will hope to bounce back with the project after consecutive disappointments like Anbanavan Asaradhavan Adangadhavan and Bagheera. GV Prakash comes up with a peppy and lively BGM that complements the mood of the trailer. Director Adhik Ravichandran has a knack for presenting typical stories in an unorthodox manner with a good dose of entertainment and 'Mark Anthony' appears to be another similar attempt from him.
ALSO READ: Watch: Nagarjuna asks 'where is Samantha' to Vijay Deverakonda on Bigg Boss Telugu 7's grand premiere
Last Updated Sep 4, 2023, 11:32 AM IST