Marilia Mendonca, Latin Grammy-Winning Singer seen enjoying in aircraft, moments before plane crash (video)
Popular 'Sertanejo' Singer, Marilia Mendonca died in a plane crash on Saturday while on her way to the State of Minas Gerais in Brazil. Her team confirmed the news on her Instagram account with an official statement.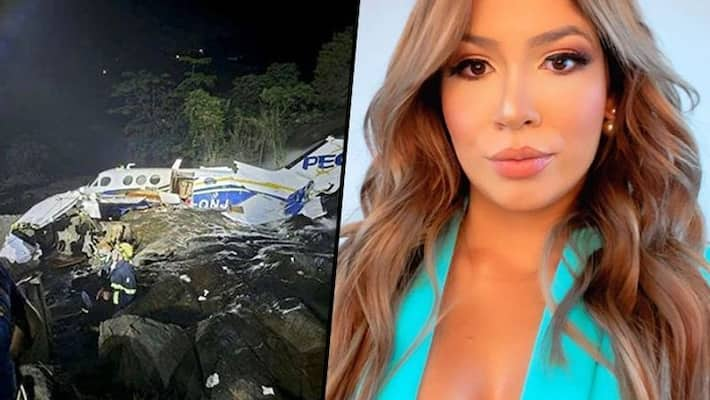 The 26-yar-old singer, Marilia Mendonca was on a plane to Minas Gerais – a state in Brazil on Friday ( Brazil time) when the fatal accident of the Brazil plane crash took place, killing the singer. Marilin, a Latin Grammy award recipient was a sensational singer of Brazil. Although no immediate cause of the plane crash is not known yet, the accident took the life of Marilia.
What is shocking is that Marilia was seen excited about her trip to Minas Gerais. A video posted roughly 12 hours ago, shows the young singer having a joyful time inside her ride. The video was posted after Marilia boarded the aircraft, and a little before the aircraft crashed in Minas Gerais.
In the video, Marilia is seen wearing a black and white checkered outfit comprising of a jacket and a skirt. She is also seen enjoying her meal on board. In fact, in the video's caption written in Portuguese, the singer also asked fans to suggest the delicious things that she can savour in Minas Gerais. The video since then has been liked over six lakh times. Several celebrities of Brazil have also commented on the post since the news of the plane crash went viral.
ALSO READ: Russia: 16 feared dead as plane carrying parachutists crashes in central region
Her death was officially announced by Marilia's team on the singer's Instagram account. As per the news, two pilots as well as Marilia's uncles who were on board the flight could not survive in the plane crash either. The crash took place on the outskirts of Caratinga where Marilia was headed for a live concert.
ALSO READ: Indonesia sends plane parts of crashed Sriwijaya Air jet to US, UK for investigation
An investigation to know the actual cause of the plane crash has also been launched in the matter by the local police. According to the officials, there are chances that the plane crash took place that damage could have been caused due to a possible collision with a power antenna. It was in 2019 when Marilia won the Latin Grammy award.
Last Updated Nov 6, 2021, 12:12 PM IST