Lockdown makes film actress drive tractor and work in farm field
Daughter of famous actor Arun Pandian, actress Keerthy Pandian is seen planting a crop in water bed and dedicating her time in farming to beat lockdown stress. Earlier, she was seen driving a tractor at the farm field.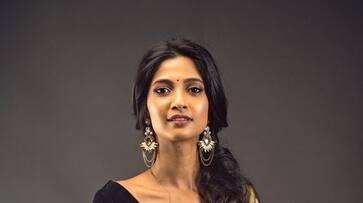 Bengaluru: Actors are trying new ways to beat the lockdown. While some are posting cooking video, few are into fitness. However, this young actress has gone an extra mile in showing a better way to beat the lockdown woes by taking up farming. Keerthy Pandian, daughter of famous actor Arun Pandian, is seen planting a crop at her farm field. 
Earlier, the actress was seen driving a tractor in Tirunelveli district at her father's farm land in Tamil Nadu. 
The actress made her acting debut in 2019. She will next be seen in Tamil web series Thumbaa. 
She has captioned her first lockdown activity video saying, "Again, this is within our quarantine gated home property, it is not a public area."
In her latest video, she roped in her niece Driya to help her.
Unlike her counterparts in the film industry, Keerthy has taken the farming route to find solace during lockdown. 
Last Updated May 6, 2020, 9:27 AM IST