Lijo Jose Pellissery's 45th birthday: Mohanlal announces release date of filmmaker's Malaikottai Vaaliban
On Lijo Jose Pellissery's 45th birthday, Mohanlal took to social media and released a new poster of his upcoming film 'Malaikottai Vaaliban' and also confirmed the film's release date.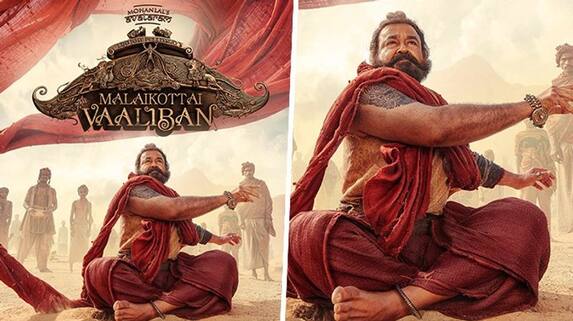 The Malaikottai Vaaliban movie, starring Mohanlal and planned for release in 2022, has been generating a lot of buzz ever since its announcement. One of the most eagerly awaited Malayalam films, fans have been watching and excitedly celebrating each new development since the project's inception. The most anticipated piece of information has now been disclosed by Mohanlal himself: the film's release date.
On Monday, in honour of LJP's 45th birthday, Mohanlal unveiled a new poster for the movie on social media and disclosed that it will be released in theatres on January 25, 2024. "The timer has started! On January 25, 2024, Vaaliban will premiere in theatres all across the world, according to Mohanlal. Even the most recent poster maintains the mysterious and eager atmosphere of the movie's earlier advertising pieces. It features Mohanlal in a completely different and unusual appearance, sitting in the middle of a desert environment and wearing maroon robes that perfectly depict the unique aesthetic of the film's setting.
The extremely ambitious movie took 130 days to shoot, visiting numerous locations in Rajasthan, Chennai, and Puducherry (Pondicherry). The largest project Lijo Jose Pellissery has undertaken so far is Malaikottai Vaaliban. Producer Shibu Baby John told Indian Express that "this is a movie for every Indian and anyone who is interested in an uplifting tale about the human spirit." 
Malaikottai Vaaliban, a period drama, has been written by PS Rafeeque and funded by Shibu Baby John for John & Mary Creative, along with Century Films, Maxlab Cinemas and Entertainments, and Amen Movie Monastery. The film's cinematography has been handled by Madhu Neelakandan, musical score by Prashant Pillai, and editing by Deepu S. Joseph. Sonalee Kulkarni, Hareesh Peradi, Manikandan Achari, Rajeev Pillai, Danish Sait, and Hariprashant Varma will also be seen in the movie.
Last Updated Sep 18, 2023, 6:57 PM IST