Lata Mangeshkar birth anniversary: Lesser-known facts about the 'Nightingale of India'
At the age of 92, Lata Mangeshkar passed away in Mumbai.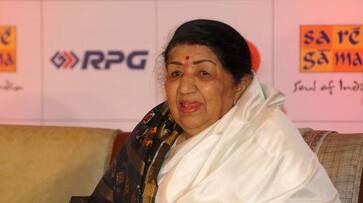 Legendary singer and Bharat Ratna recipient Lata Mangeshkar passed away on Sunday in Mumbai. Known as the 'Nightingale of India', she has left behind a treasure trove of songs vocalised in her mellifluous voice, sung across a career that lasted for over 70 years. Lata, considered one of the greatest Indian playback singers, will live on through her melodies. Her solos and immortal duets with Mohammed Rafi, Kishore Kumar and Mukesh, along with a legion of other prominent Indian singers, are among Hindi cinema's most memorable songs.
Lata Mangeshkar came from a long line of singers. Lata was raised with a passion for music and the management of her father's theatre company. When the sisters (Lata and Asha Bhosle) started singing, it was with the intention of continuing their father's tradition. She recounted the primary motivation for her career in an old interview with Stardust. She explained, "It so happened that once, as he was finishing up some job, my father asked his shagird (disciple) to practise a raag. When I was performing close by, a note from the raag that Shagird was rendering startled me. Immediately after, I was correcting him. When my father came home, his own daughter had a shagird.
In 1942, Lata cut "Naachu Yaa Gade, Khelu Saari Mani Haus Bhaari" for a Marathi film titled Kiti Hasaal. But regrettably, the song wasn't included in the finished version of the movie.When Lata and music producer Naushad were recording a tune, she once passed out. In an interview with Firstpost, she made the same admission and added, "We were recording a song on a long, hot summer afternoon. You are aware of how crowded Mumbai is during the summer. The recording studios didn't have air conditioning back then. During the final recording, even the ceiling fan was turned off. "Bas, main behosh ho gayi (I passed out)"
When asked why she doesn't listen to her own songs, Lata Mangeshkar reportedly told Bollywood Hungama that she would notice a hundred mistakes in her singing. According to Lata, Madan Mohan was the best music director she ever collaborated with and the one she felt the closest to. She stated, "I shared a special relationship with Madan Mohan, which was much more than what a singer and a music composer share," in the Tere Sur Aur Mere Geet collector's item calendar from 2011. This was a brother and sister connection. She cited their favourite joint effort with him as "Woh chup rahe" from Jahan Ara.
Lata served as an MP (Member of Parliament) for a brief period from 1999 to 2005. In 1999, she received a nomination for the Rajya Sabha (Upper House). She stated she was hesitant to be inducted and that her term was a miserable one.
Lata was more than just an iconic singer from India. She had admirers all over the world who adored her lovely voice. She has the distinction of becoming the first Indian performer to ever take the stage at London's illustrious Royal Albert Hall. In 2007, the French government presented her with the highest civilian honour in the nation, the Officer of the Legion of Honour.
Lata Mangeshkar was included as the artist with the most recorded songs in the 1974 edition of The Guinness Book of Records. But Mohammed Rafi refuted the assertion. Lata's name was still listed in the book, but Rafi's assertion was also mentioned. Lata's sister was listed by Guinness as the most recorded artist from 2011 after the listing was withdrawn in 1991. Pulapaka Susheela is the current holder of the title.
Last Updated Sep 27, 2023, 5:10 PM IST