Koffee With Karan 8: Vicky Kaushal to skip appearing with Katrina Kaif, set to come with Kiara Advani? Read
Koffee With Karan 8: Vicky Kaushal reported to appear solo with Kiara Advani, disappointing expectations of a joint appearance with wife Katrina Kaif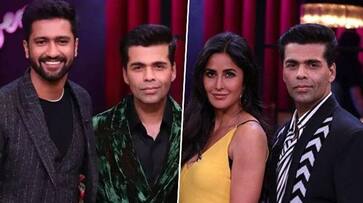 In the highly anticipated episode of Koffee With Karan 8, Vicky Kaushal is set to make a solo appearance, shunning speculations of a joint debut with his wife, Katrina Kaif. Instead, Vicky will be accompanied by the charming Kiara Advani, adding a new twist to the show's dynamic.
According to a report, the duo shot the episode at the YRF studios in Mumbai on November 16, exuding infectious energy and a camaraderie that promises an entertaining watch. Despite Katrina Kaif's absence from the episode, sources reveal that she made a surprise visit to the sets, coinciding with her press interviews for the upcoming film, Tiger 3.
This episode is significant as it marks the first time Vicky Kaushal and Kiara Advani share the Koffee With Karan stage, creating a buzz among fans who have eagerly awaited this pairing. The two actors had previously collaborated in the movie Govinda Naam Mera, and their on-screen chemistry seems to have translated into a delightful off-screen camaraderie.
The love story between Vicky Kaushal and Katrina Kaif has been a subject of public fascination since they tied the knot in December 2021. Interestingly, Vicky had once manifested his own love story on the Koffee With Karan couch, making their journey even more intriguing for fans.
Addressing the media speculation surrounding their relationship, Katrina Kaif had candidly shared in season 7 of the show that, at the time when rumors were rampant, they were not actually dating. She humorously recounted the awkwardness of the situation, stating, "It was funny because there was so much coming in the media. There was a period when there was so much coming in the media about me and Vicky dating or getting to know each other, and we actually were not dating. It was really awkward."
ALSO READ: Salaar: Cyber police detain culprits behind unauthorized content spread of Prabhas starrer thriller; Read more
Reflecting on the unexpected turn of events, Katrina expressed, "What was so wonderful about it was that it was so unexpected. It was so out of the blue. I didn't know who he was. He was not on my radar. He didn't cross my path. I heard the name but there was no association. This person just appeared out of nowhere. Wow."
ALSO READ: The Crown season 6 Part 1: Elizabeth Debicki as Princess Diana takes away cake from the Late Queen Elizabeth
Last Updated Nov 18, 2023, 2:13 PM IST