Kamal Haasan becomes first man to have 3D printed statue attached to balloon satellites, details here
Space Kids India launched two satellites ahead of the Tamil Superstar's 67th birthday on Sunday, as a way to honour him. The satellites were launched with the aim to gather information on different parameters of air quality.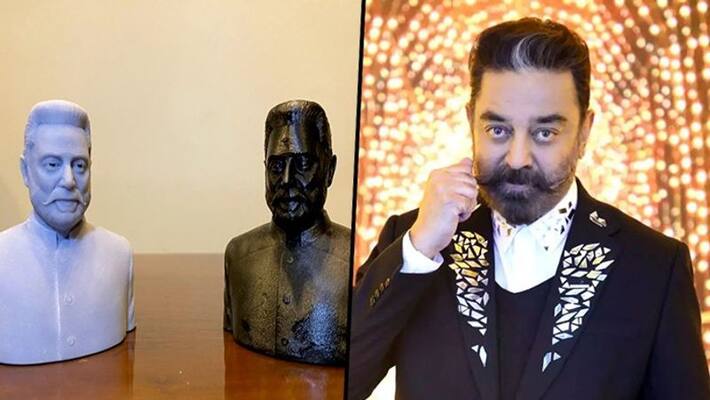 Fans of actor-turned-politician Kamal Haasan were in for a surprise when they found out that Haasan has become the first human being to have his/her statue attached to a balloon satellite. A 3D printed statue of Haasan was attached to two balloon satellites to pay tribute to the actor, who will be turning 67 on Sunday, November 07. These satellites were launched from the ground level and were to reach the stratosphere to gather the air quality information before and after Diwali.
The first balloon satellite was launched on Diwali, i.e. Thursday, November 04, and the other on Friday, November 05. Both the satellites were released from Spaceport India in Chennai. Data collected from both satellites have been sent for a comparative study of the air quality on the two days.
ALSO READ: Indian 2 shoot to resume only after Kamal Haasan's 'Vikram'
Conceptualized by his political team member SB Arjun, the satellites reached up to the height of 70,000 feet, gathering all the required information. Dr Srimathy Kesan spearheaded the mission. It was an initiative carried out by Kesan's team at 'Space Kidz India', comprising mainly of college-going students and fans of Haasan.
Back in 2015, the same team has invented the world's smallest satellite – KalamSat. The satellite was sent to space by NASA. The team also rolled out two satellite payloads with ISRO. So far, at least 15 such balloon sites have been invented by the group for scientific research.
ALSO READ: Kamal Haasan watched Fahadh Faasil's Malik; here's how he reacted
Haasan will next be seen in his upcoming action thriller film titled 'Vikram'. Film director Lokesh Kanagaraj posted a new film poster on his social media, featuring the Tamil superstar in an intense look, holding a machine gun in his hand. The poster was released on Friday, two days before Haasan's birthday.
Last Updated Nov 6, 2021, 5:51 PM IST