John Abraham declaring 'no comments' on Kareena Kapoor in old video goes VIRAL - WATCH
John Abraham told Karan Johar that he did think that Shahid Kapoor was sweet to him. But John refused to comment on Kareena Kapoor Khan. A clip of John saying 'no comments' on Kareena Kapoor in an old video clip from Koffee With Karan has gone VIRAL on Reddit.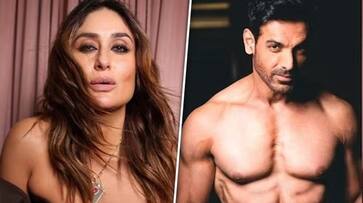 The internet has been buzzing with anticipation since Karan Johar announced that his talk show Koffee With Karan is coming with its eighth season on October 26 this year. Since the announcement of Karan, old videos from earlier seasons have been resurfacing more frequently, with netizens deep-diving into the archives of the internet as they await the latest season. In a video that got trending and VIRAL on Reddit, John Abraham addressed his equation with former couple Shahid Kapoor and Kareena Kapoor Khan.
ALSO READ: Arjun Kapoor finishes alleged 'cold war' with global icon Salman Khan in SPECIAL way - READ
In the video, Karan asked John, "You were recently on a world tour with Salman, Shahid, Kareena, Mallika Sherawat and Esha Deol. Everybody said you kept to yourself and stayed away. You do that intentionally?." John replied, "I have a habit. I sleep really early. I get up really early. That must have been one of the reasons why I probably did not even hang out very often with anyone else."
Why John and Kareena never got along?
byu/Phooljhadi inBollyBlindsNGossip
Karan then asked, "What is your problem with Shahid and Kareena? Things are okay there?." John said, "Yeah, I think they are pretty sweet. At least Shahid is pretty sweet." Karan asked, "Not Kareena?" John replied, "Thanks to your show last year. Last time, you asked me innocently with that glint in your eye. You asked who was better. I told you, and I got into trouble." When Karan asked him again about his equation with Kareena, John said, "No comments."
Netizens took to the comments section to express their hot takes. One person wrote, "Because he was BF of Bipasha at that time." Another added, "John got asked who is better: Rani or Kareena. And John chose Rani cos he is a big fan. Later on, Karan told Kareena on the show that John chose Rani. And Kareena said something along the lines of not agreeing with an answer."
ALSO READ: 'Chandu Champion': Kartik Aaryan reveals challenges faced while shooting 8 minutes long war scene
Last Updated Oct 12, 2023, 2:21 PM IST